The rift between Samajwadi Party strongman Mulayam Singh Yadav and 'obedient' Akhilesh grew even wider with the father openly backing his son's foes in the party. Virendra Singh Rawat reports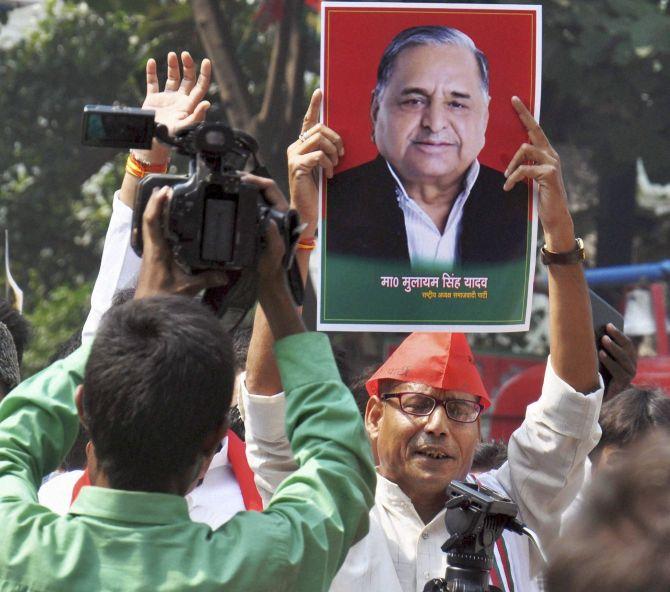 IMAGE: A party worker raises a poster of Samajwadi Party President Mulayam Singh Yadav in front of the party office in Lucknow. Photograph: Nand Kumar/PTI Photo
Acrimony and personal attacks marked a Samajwadi Party meeting with senior leader Shivpal Yadav snatching the microphone from his nephew and Uttar Pradesh Chief Minister Akhilesh Yadav. Shivpal also accused his nephew of planning to float a breakaway party.
Party chief Mulayam Singh Yadav, who chaired the meeting of legislators and leaders, stood by general secretary Amar Singh and advised his son Akhilesh to learn from Prime Minister Narendra Modi who visits his mother often. Mulayam also questioned the Akhilesh government's claims of having taken care of the interests of Muslims of the state.
Akhilesh, who broke down more than once, denied that he had ever planned to launch a new party. He first offered to step down in a choked voice but later accused Amar Singh and those close to him of hatching a "conspiracy" against him and his father. "Let Netaji (Mulayam) appoint a chief minister who he feels is honest," he said. "Why should I form a new party?"
Shivpal, however, disputed Akhilesh's denials on floating a new party. Shivpal said he was prepared to "swear" by his son and "Ganga Jal" that the CM had talked about floating a new party to contest the upcoming assembly polls in alliance with other political party.
There were sharp exchanges between Akhilesh and Mulayam, who virtually dismissed him as an insignificant entity in UP politics who could not win election on his own. "What is your capability? Can you win elections?" Mulayam said, snapping at Akhilesh.

What is your capability? Can you win elections?

Mulayam also recalled how Amar Singh had been with him in his bad times, particularly saving him from going to jail. Mulayam faced a Central Bureau of Investigation probe for allegedly amassing disproportionate assets. Akhilesh and his aides have been openly blaming Amar Singh for the crisis and demanding his expulsion.
Mulayam openly backed his brother Shivpal. However, he rejected any possibility of replacing Akhilesh. The political drama was also punctuated by clashes between rival factions outside and inside the venue and after an abrupt end to the meeting of the legislators, MPs and ministers.
Shivpal made a dramatic appearance at the chief minister's residence hours later and both drove to Mulayam's residence in the same car. The meeting, party sources said, could have come at the behest of the party chief.
The proceedings reached a flashpoint when Akhilesh accused Rajya Sabha member Amar Singh, who recently returned to SP, of having planted a story in a leading English daily in which he was called 'Aurangzeb' and Mulayam 'Shahjahan'.
Mughal emperor Shahjahan was imprisoned by his son Aurangzeb in his last years. Shivpal, who was standing close by, was seen snatching away the microphone from Akhilesh and calling him a "liar". "The chief minister is lying… the chief minister is lying," he told the gathering. Shivpal also demanded that Mulayam should take over the government.
On Sunday, the chief minister had sacked Shivpal from the Cabinet, along with three other ministers. A few hours later, Mulayam expelled party general secretary Ramgopal Yadav, who is supporting Akhilesh, from SP for six years. In Mumbai, Ramgopal told reporters that he was no longer a part of the SP.
In the meeting, Mulayam stood up for Shivpal and recalled latter's contributions in building the party, calling him a mass leader. Shivpal said he was humiliated by his sacking from the Cabinet for no fault of his.
-- With inputs from Agencies