Opposition parties Nationalist Congress Party and Samajwadi Party on Wednesday demanded reservation for OBCs in the women's reservation bill and questioned the reason for calling a special session when the bill cannot be implemented before census and delimitation.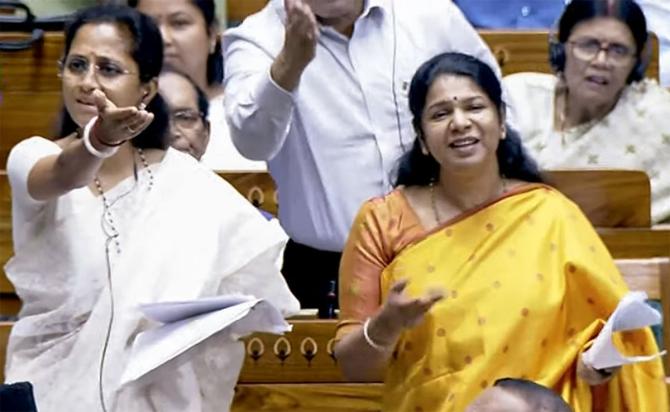 Participating in the debate on women's reservation bill in the Lok Sabha, Sule termed the legislation a 'post dated cheque' and demanded the government spells out the date and timeline for its implementation
Sule questioned the reason for calling a special session of Parliament to approve the 128th Constitutional Amendment Bill -- 'Nari Shakti Vandan Adhiniyam' when it cannot be implemented without a census and delimitation.
She stressed that since the date of census and delimitation is not yet decided, the bill could have as well been introduced in the Winter session of Parliament.
"There is drought in the country. Why this special session cannot discuss drought? My question to the government is date of next census... the date of delimitation is indeterminant. So, the (woman) reservation which is dependent on two indeterminant dates, how are we going to get it? There is no date decided for census or for delimitation, what is the date and timeline for this," Sule said.
On Bharatiya Janata Party fielding Nishikant Dubey as the lead speaker of the debate, Sule said she felt that BJP was taking 'anticipatory bail' as Dubey raised the same questions which the opposition had asked on Tuesday.
"Why should we not ask for OBC reservation? It is a golden opportunity... With a big heart let's make a constitutional amendment for SC, ST, OBC in the Special Session. Let's send a message to the nation that we are committed to SC, ST and OBC. What's wrong in that? If they have a different view, BJP must clarify that stand," Sule said in the Lok Sabha.
Samajwadi Party member Dimple Yadav demanded a provision for reservation of women belonging to backward classes, SC/STs and minority community in the bill.
Law Minister Arjun Ram Meghwal on Tuesday introduced Nari Shakti Vandan Adhiniyam bill which seeks to provide 33 per cent reservation to women in Lok Sabha and state assemblies. The number of women in 543-member Lok Sabha will rise to 181 from 82 currently.
Dravida Munnetra Kazhagam member T Sumathy reason the reason behind naming the bill in Hindi.
She also wondered why President Droupadi Murmu for not invited for inauguration of the new Parliament building.