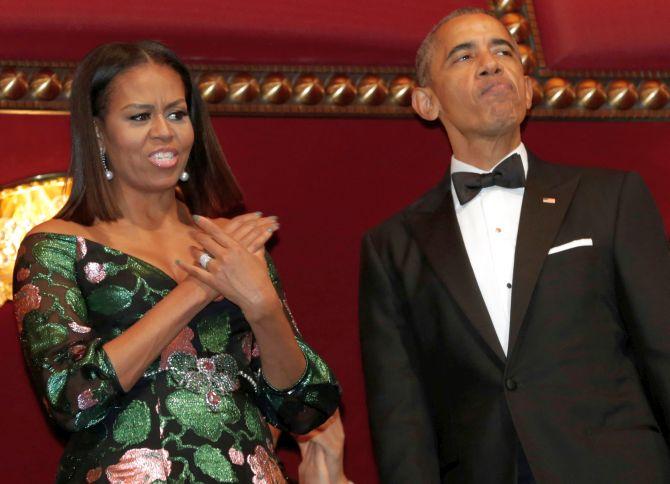 United States President-elect Donald Trump is in hot water after the co-chair of his New York state presidential campaign claimed that he hopes President Obama "catches mad cow disease" while First Lady Michelle Obama "becomes a male ape".
Carl Paladino, a 70-year-old entrepreneur who ran for New York governor in 2010, writing on the website Artvoice, an alternative newspaper in Buffalo, described the three things that he would like to see happen in 2017.
He said: "[I hope] Barack Obama catches mad cow disease after being caught having relations with a Hereford.
"He dies before his trial and is buried in a cow pasture next to Valerie Jarret, who died weeks prior after being convicted of sedition and treason when a jihadi cellmate mistook her for being a nice person and decapitated her.
"I'd like Michelle Obama to return to being a male and let loose in the outback of Zimbabwe where she lives comfortably in a cave with Maxie, the gorilla."
The 70-year-old entrepreneur confirmed that he made the comments while speaking to WKBWK TV.
He added that the comments were made in "humour" because it was an "appropriate time to say goodbye to a couple of people who created a very divided country".
Commenting on accusations that the comments were racist, Paladino continued: "That's what people say not having any other defence for the issue at hand.
"I hear it constantly -- I'm a racist for pleading for 33,000 kids that we have in our municipal school systems and trying to do something right for them.
"Don't go accusing me of being a racist because I'm about as far from that as possible and that's why I feel like I can say these things that I say.
"I don't care if they don't want to listen -- the black leadership in this community is horrible. They do nothing for their people, they do it for their own power, self-preservation and so they can get reelected.
Image: US President Barack Obama and first lady Michelle Obama attend the Kennedy Center Honors in Washington, DC. Photograph: Yuri Gripas/Reuters