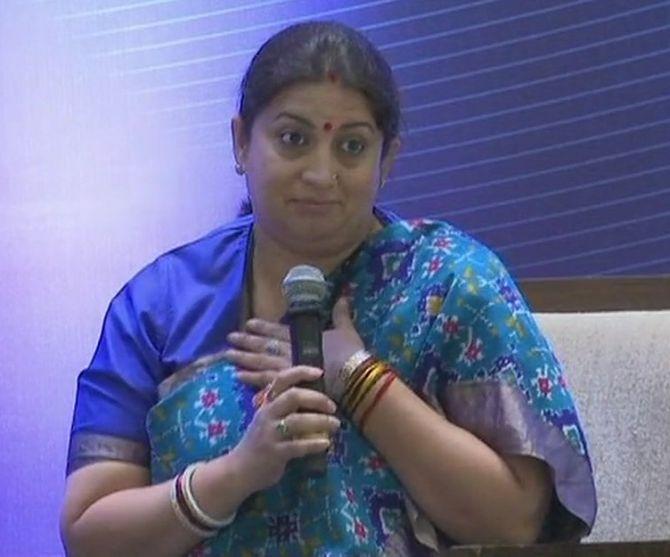 Amid protests against the Supreme Court order opening the Sabarimala temple in Kerala to women of all ages, Union minister on Smriti Irani Tuesday said the right to pray did not mean the right to desecrate.
On September 28, a five-judge constitution bench of the Supreme Court, headed by then chief justice Dipak Misra, lifted the ban on entry of women of menstrual age into the shrine.
Women have been stopped by Ayyappa devotees from climbing up to the Sabarimala temple as protests against the Supreme Court order opening the hilltop shrine to women of all ages continued across Kerala.
"I am nobody to speak against the Supreme Court verdict as I am a serving cabinet minister. But just plain common sense is that would you carry a napkin seeped with menstrual blood and walk into a friend's house? You would not.
"And would you think it is respectful to do the same when you walk into the house of god? That is the difference," she said in response to a question on the Sabarimala controversy.
"I have the right to pray, but no right to desecrate. That is the difference that we need to recognise and respect," Irani, the minister of textiles, said.
Irani was speaking at the "Young Thinkers" conference organised by the British high commission and the Observer Research Foundation.
"I am a practising Hindu married to a Zoroastrian. I have ensured that both my kids are practising Zoroastrians, who can go to the fire temple and pray," she said.
Irani recalled that when her children were inside the fire temple, she had to stand outside on the road or sit in the car.
"When I took my newborn son (to the fire temple), I would give him at the (temple) entrance to my husband and wait outside, because I was shooed away and told not to stand there," she said.
Later in the day, Irani posted a series of tweets while referring to the event and the comments made by her there.
"Since many people are talking about my comments let me comment on my comment," she wrote.
"As a practising Hindu married to a practising Zoroastrian I am not allowed to enter a fire temple to pray.
"I respect that stand by the Zoroastrian community/priests and do not approach any court for a right to pray as a mother of 2 Zoroastrian children. Similarly Parsi or non Parsi menstruating women irrespective of age do not go to a fire temple," she tweeted.
She said these are "2 factual statements" and "Rest of the propaganda/agenda being launched using me as bait is well just that ... bait."
Reacting to those criticising her for her comments made at the event in the morning, Irani said, "As far as those who jump the gun regarding women visiting friend's place with a sanitary napkin dipped in menstrual blood I am yet to find a person who takes a blood soaked napkin to offer to any one let alone a friend.
"But what fascinates me though does not surprise me is that as a woman I am not free to have my own point of view. As long as I conform to the liberal point of view Im acceptable. How liberal is that??"