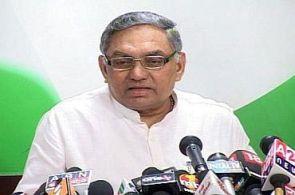 On the backfoot over the Supreme Court observations on coal block probe issue, Congress on Tuesday said the remarks were "not pleasant" for the government but it will wait for the "final opinion".
"Of course, it is not a pleasant comment for any dispensation, for any composition of the government," Congress general secretary Janardhan Dwivedi told reporters inn New Delhi.
He was asked if the observations made by the Supreme Court were disturbing for the party and the government.
In a major embarrassment to the government in the Coalgate case, the Supreme Court today termed as "very disturbing" the CBI affidavit on sharing its report with the law minister and others and slammed the agency for having kept the court in the dark on the issue.
It said "suppression" of the fact that CBI has shared its probe report with the government is "not ordinary".
Dwivedi said Congress "has never commented on the remarks of any court and in particular the Supreme Court. We are maintaining it in this case also.
"As far as the comments of the Supreme Court are concerned, I believe that the final opinion is yet to come and once it comes, an appropriate decision can be taken.
The Congress spokesperson said the Congress "was not one of those who praise the court when decisions are in our favour and criticise it when the verdict is against us. We respect the courts."
CBI Director Ranjit Sinha, in his two-page affidavit filed in the apex court on April 26, had said that the agency's status report on the coal scam was "shared" with the law minister and senior officials of PMO and the coal ministry "as desired by them".