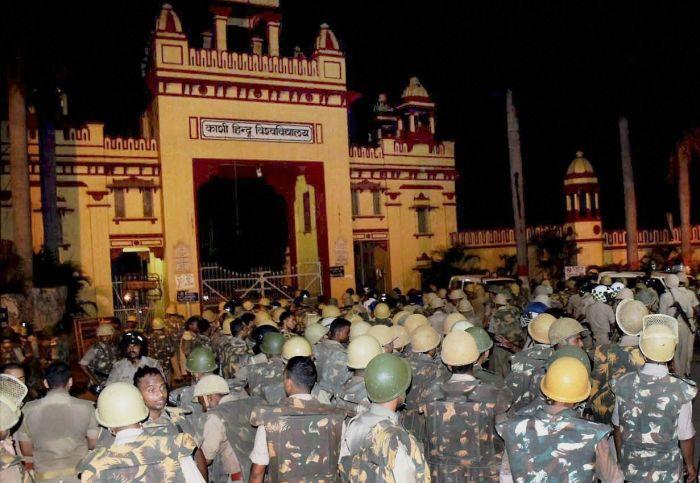 Banaras Hindu University vice chancellor Girish Chandra Tripathi on Thursday said that he will "resign" if he is asked to proceed on leave and maintained that the human resource development ministry had not told him to do so.
The ministry has, meanwhile, initiated a routine process to shortlist the successor of Tripathi, who is at the centre of the controversy over handling of the recent violence in the BHU campus. His tenure ends on November 30.
"So far, nothing of this sort has been communicated to me. I have been in touch with the HRD minister (Prakash Javadekar) right from the day of the incident and have briefed him about the situation as well as the measures taken. But if am I asked to go on leave, I will resign," Tripathi said.
The vice chancellor said that he has contributed a lot to improve the functioning of the university.
"Having done so much, it will be insulting to go on leave two months before my tenure comes to end. I will prefer quitting," he asserted.
The ministry officials said the process for appointing his successor has been initiated, but maintained that the timing of violence in the BHU campus and steps for appointment of a new VC is completely "coincidental".
Even if the unrest would not have happened, appointment process would have been initiated, a senior HRD official said on the condition of anonymity.
Last week, a number of students, including women, and two journalists were injured in a baton-charge by the police after a protest against an alleged eve-teasing incident turned violent in BHU, one of the 43 central universities in the country.
Tripathi had earlier this week said that the violence was fanned by "rumour mongering" and "outsiders".
Meanwhile, the BHU on Thursday appointed its first woman chief proctor after her predecessor resigned taking moral responsibility for the recent violence on the campus.
The chief proctor's appointment was approved by Tripathi following the resignation of O N Singh.
"Royana Singh, an assistant professor at the Institute of Medical Science (Anatomy Department), has been appointed as the Chief Proctor," a senior BHU official said.
"She is the first woman in varsity's history to hold the post and also heads the women grievance cell of the university," the official said.
The university also issued a press release confirming her appointment after Singh quit the post, taking moral responsibility for the unrest on the campus.
Royana Singh said she has "zero-tolerance" towards eve- teasing and she was "away when the incident took place".
"I was away when the incident took place. I have zero- tolerance towards such acts and will ensure nothing of this sort is repeated on campus," she said.