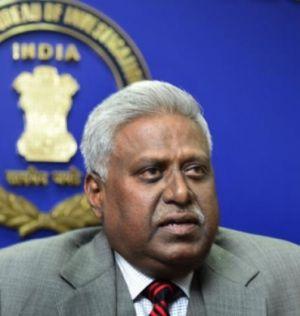 Under attack for allegedly meeting officials of companies accused in 2G scam, Central Bureau of Investigation Director Ranjit Sinha on Thursday said that he would recuse himself from the ongoing probe in Coal scam if the Supreme Court ordered so.
His reaction comes within hours of an NGO filing an application before the apex court demanding that he be kept away from the coal block allocation scam probe because he interfered with it.
The application filed by NGO -- Common Cause -- referred to a document showing ingress and egress into his official residence which contains names of "influential" persons allegedly involved in the coalgate scam.
"I will recuse myself from coal scam investigations if Supreme Court orders so," Sinha told reporters.
At the fag end of his career, Sinha has been in controversy lately because of a register which purportedly shows entry to his residence of personnel working with companies accused in 2G and coalgate scams.
Interestingly, Moin Qureshi, a meat exporter, against whom the Income tax department has launched a probe for alleged tax evasion, is also shown as having had frequent meetings with him.
However, the Director said he was his friend and there was no criminal investigations pending against him.
Terming it as "deliberate character assassination", Sinha claimed that he has not favoured anyone and the courts are there to scrutinise every paper and every aspect of investigations being carried out by the agency.
He said that corporate rivalry was well known in this country and unfortunately this time they were trying to engulf the CBI by carrying out malicious campaign against him.
Another NGO -- Centre for Public Interest Litigation -- had stated in the Supreme Court that a visitor register of his residence showed that officials of the accused telecom companies used to regularly frequent his residence.
However, the Director contended that all the 2G scam cases were probed before he took over as Director on December 2, 2012. His tenure ends in December this year.