In the 2012 election, the BJP's performance was the poorest in Purvanchal, winning only 12 of the region's 112 seats.
Will 2017 be different?
Will the party ride on Varanasi MP Narendra Modi's charisma?
Shreya Jai reports.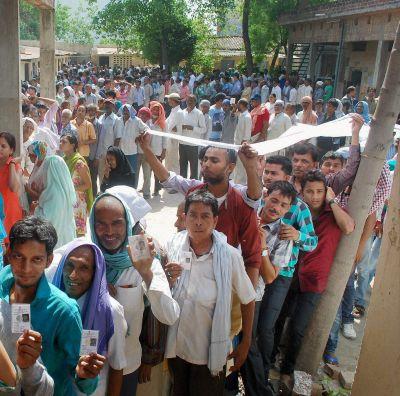 The massive saand (bull) of Banaras (also known as Varanasi) is, by and large, a placid animal.
However, if roused, it can run at full tilt, half-crazed, and has been known to gore and trample people to death.
It likes to saunter through the narrow alleys of the old city and can cause a pedestrian traffic jam because of the healthy respect it elicits on account of its size.
The bull can still be spotted. Steaming mounds of turd on the streets and the propensity of people to direct red streams of paan juice in the nearest corner is quintessential Banaras.
Banaras can be swachh, it can be modernised, but paan and the bull continue to rule.
This city elected Narendra Modi as its MP, helping to make him prime minister of India. Loyalty to Modi remains, but faith in governance seems to be faltering.
Amid the statements hailing Modi as agent of change, there is an undercurrent of despair.
The city is an important pitstop on the route to making headlines. Central ministers and agencies are queuing to give a 'facelift to the heritage town' of India.
This spills over to the neighbouring areas of Ghazipur, Rohania, etc.
There is a visible conflict, as the Samajwadi Party-ruled state government has its own projects and schemes in politically significant and diverse Purvanchal.
Posh areas such as Kabirnagar and Bhelupur have witnessed visible change.
Power cables have gone underground, the streets are clean and the walls are painted with beautiful scriptures featuring Lord Shiva (Vishvanath or Bhole Baba in these parts, is the singular deity).
"We are making this city look like an urban heritage town. Every street and lane should tell the tale of Kashi and the reforms which have been taken up," said a senior executive with a central government department in Varanasi.
The development and modernisation of Varanasi might be on apace but like elsewhere in India, one hand of the government frequently doesn't know what the other is doing, leading to turmoil and double payment for the same job.
Roads lie dug -- the guy laying underground electricity cables finished his job and left, but it had to be re-dug because the gas pipeline had to be laid.
"All those working here are only trying to earn brownie points. At an engineering level, the work is good, but it is all going on in silos. While the central government might blame the state for lack of coordination, they (the latter) are the ones actually pro-active. There is lack of coordination between the central departments as well," said a senior official with one of the state departments.
Yogeshwar Ram Mishra, the new district magistrate, is confident a turnaround of Varanasi will happen in 18 months.
"Change will happen in this city, definitely will. Come, visit again in a year, you will see," he says.
"Jo log Kashi ko jaante hain, uski aatma ko samajhte hain, wahi badlaav laa sakte hain (Only those who know Kashi, its soul, are the ones who will bring change in this city)," an SP supporter says.
Local party workers believe the state government has been proactive and inclusive to all the Centre's schemes and plans.
"BJP is losing ground here, however loudly they claim that they are leading. The city, the whole area stands still. Painting karne se kya hoga? Structure flawed hai. Shivala jaiye, Kazzakpura jaiye, dekhiye haalat. Kuch nahi kiya hum logon ke liye (What change can you bring by painting over? The basic structure is flawed. Go to Kazzakpura and Shivala, see the conditions in which we live. No work has been done for us)," says a silk trader.
Shivala is where the Muslim weavers are and Kazzakpura is a Muslim populated area. The silk trader is Muslim.
"Darr toh aa he jaata hai BJP ke aane se. Par ye dhandha rok denge, ye nahi socha thha (Fear obviously sets in when the BJP comes to power. But we never thought they would put an end to our business)," says Abdul, one of the handloom owners in Shivala.
Demonetisation has hit them badly. Orders stand cancelled; there is no cash to pay the workers.
The Muslim populace is confident that this is the last nail for BJP in the region.
"Demonetisation has paralysed the ones who were doing cash politics in this state. This is their nervousness talking. People know the crackdown on black money is a master stroke by Modiji and it will show results in February (during the assembly election)," says a key BJP party member in the city.
He concedes teething troubles, but dismisses these as implementation issues, which would be resolved in time.
The real tale of Kashi is in its crammed lanes.
This is where the beauty of Kashi lies -- it houses weavers, traders, pandits, butchers, opium sellers, UPSC aspirants, voters....
Kashi is representative of Purvanchal or eastern Uttar Pradesh, which branches out and converges back on the ghats of Banaras.
A mix of Brahmins, Muslim labour (mostly involved in handicrafts) and businessmen from across castes -- Bhoomihar, Gupta, Kushwaha, OBCs, with an emerging Patel community -- inhabit the narrow lanes.
The cash economy in the small towns is suffering, as most traders or the people they deal with, don't have bank accounts.
"More than that, cash in hand is the moving cash, a legitimate guarantee for traders, hoarders and wholesale businessman. It is not black money. It is how we keep our small business oiled and moving. Is sarkar ko kaun samjhaaye (Who'll make this government understand)?" asks a wholesale silk saree trader, standing in the middle of a room where a cancelled order of 25,000 items is stacked against the walls.
He refused to share his name, lest his caste overshadows his views.
A senior BJP worker, requesting strict anonymity, said:"A strict step has been taken by the PM. Delhi wale mantri aur Mumbai wale santri situation control nahi kar paaye. (People with no idea of the ground reality are handling the situation)." He requested that not even the city he belongs to be mentioned.
Poorvanchal -- the belt of eastern UP that spills onto Bihar -- comprises, among others, the districts of Ghazipur, Mirzapur, Ballia, Basti and Gorakhpur.
It contributes 117 seats out of 403 in the state assembly and therefore wields clout.
In 2012, the BJP's performance was the poorest in this region, getting only 12 of the 112 seats.
Four MPs from Poorvanchal have been given a place in Modi's ministry -- Anupriya Patel from Mirzapur, Mahendranath from Chandauli, Manoj Sinha from Ghazipur (all ministers of state) and Kalraj Mishra from Deoria (a Cabinet minister).
IMAGE: Voters wait to cast their ballots in Varanasi in the 2014 Lok Sabha election. Photograph: PTI