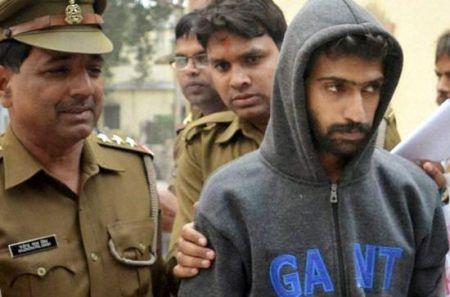 Asma Khatoon is devastated that her husband is a Pakistani spy.
M I Khan reports from Patna.
'I will not nurse a traitor's child,' says Asma Khatoon, whose husband Mohammad Kalam was arrested last November for allegedly working for Pakistan's Directorate of Inter-Services Intelligence and and providing information about the Indian Army.
After delivering a baby boy on Wednesday, January 27, in Bihar's Ara town, Asma said, 'Main gaddar ki nishani puri umar upne saath nahin rakh sakti, main use nahin palungi (I can't keep a traitor's sign with me; I will not raise this child).'
After Kalam was arrested in Uttar Pradesh, Asma had said, 'If my pregnancy wasn't in such an advanced stage, I would have aborted the child.'
She had also demanded the death sentence for her husband and made it clear that she would sever all ties with him.
'I do not want to be known as the wife of a terrorist, a man who worked against the country,' Asma, a resident of Azimabad village in Bihar's Bhojpur district, had said.
Never in her wildest dreams, she said, had she thought that Kalam was a Pakistani national with links with the ISI.
'He has cheated me and committed a sin by hiding the fact that he is a Pakistani,' Asma had said.
Asma was introduced to Kalam by a relative.
Kalam was arrested by the Uttar Pradesh Special Task Force from Meerut. According to investigators, he relayed information about military establishments and the movement of army units to his Pakistan handlers.
Residents in Azimabad, where Eizaz and Asma stayed, are also upset as they believe the village's reputation has been tarnished by the arrest.
IMAGE: Mohammad Kalam after his arrest near Meerut railway station. Photograph: PTI