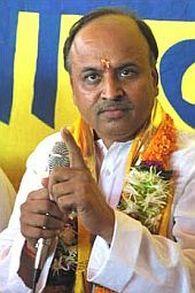 Vishwa Hindu Parishad leader Pravin Togadia on Tuesday said the outfit's controversial yatra would continue as planned.
"The 84 kosi parikrama yatra would continue as per its schedule from its decided route and there would be no change in it," Togadia told reporters.
Claiming that the yatra has already started on August 25 following a puja at the Saryu ghat, the Vishwa Hindu Parishad leader appealed that it should be allowed to continue in a peaceful, non-violent and democratic manner.
Togadia said Members of Parliament of all political parties have been urged to frame a law for the construction of Ram temple and include it in their respective manifestos.
He accused the administration of not making arrangements for food and medicine during his "illegal detention".
Togadia claimed that despite the high court order on Monday, he was released on Tuesday at 8 am.
"I was kept in detention illegally. No doctor was provided to me even when I fell ill," he said, adding that he would approach the high court in this matter.
Togadia claimed that he was not allowed to talk to the media and it was an infringement of his right.
The VHP leader said the Uttar Pradesh government "is being run not by Akhilesh Yadav but by (Samajwadi Party leader) Azam Khan" and alleged that the yatra was banned because of Khan.
"If Azam Khan is dreaming of turning Uttar Pradesh into Mughalistan, we will not allow its and give a befitting reply to it democratically," Togadia said.
VHP leaders Ashok Singhal and Pravin Togadia were released on Monday, along with 957 fellow cadres, a day after nearly 2,500 activists were arrested in a massive crackdown by Uttar Pradesh authorities to foil its yatra, which also led to protests by its workers.
The release of the VHP leaders came shortly after the Lucknow bench of the Allahabad high court directed the state government to release them in case they have been detained in violation of Section 151 (2) of the CrPC.
Under this section, a person cannot be detained beyond 24 hours in case of an apprehension of breach of peace, unless he is required in connection with some other offence.