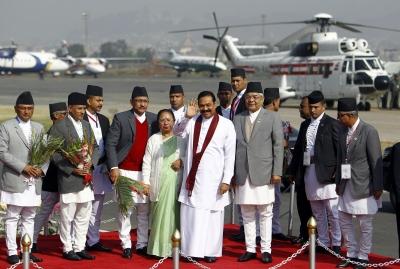 Prime Minister Narendra Modi and leaders of other South Asian Association for Regional Cooperation countries will meet in Kathmandu on Wednesday with an aim to revitalise the regional grouping and make it a major platform to fuel economic growth through liberalised trade and combat challenges of terrorism and climate change effectively.
The two-day 18th South Asian Association of Regional Cooperation summit will deliberate on a range of crucial issues such as defence and security, improving transport connectivity among the member states and ensuring greater flow of goods and services to boost trade and commerce.
Modi, after becoming prime minister, has been pushing for a stronger SAARC and there has been lot of enthusiasm among top diplomats of various countries about what he brings to the table to make the eight-nation grouping a regional powerhouse.
The theme of the summit is 'Deeper Regional Integration for Peace and Prosperity' and diplomats of a number of member countries said there have been expectations that the summit will have 'breakthroughs' in some areas.
The leaders are also expected to deliberate on enhancing cooperation in the fields of education, health care, energy security and poverty alleviation. Diplomats said there will be detailed discussion on removing hurdles for ensuring free flow of trade among the member countries.
Acting Foreign Secretary of Nepal Shanker Das Bairagi said strong commitment and decisive actions are required to fully and effectively implement South Asian Free Trade Area agreement.
Modi leads a high-level delegation at the summit which includes External Affairs Minister Sushma Swaraj, National Security Adviser Ajit Doval, Foreign Secretary Sujatha Singh and a number of senior officials of various ministries.
India sees SAARC as a regional cooperative framework for promoting active collaboration in economic, social, cultural, technical and scientific fields so as to accelerate regional growth and development.
"Although this is my first SAARC Summit, during the last six months, I have interacted extensively with leaders of SAARC countries beginning with their auspicious presence at my swearing-in ceremony. Development of close relations with our neighbours is a key priority for my government," Modi said in his departure statement in New Delhi.
Modi said he hopes to conclude some concrete agreements in the areas of connectivity and development cooperation. The authorities have put in place an elaborate security
cover deploying over 25,000 armed commandos across the city which have been decked up to greet the leaders of the member countries.
Huge billboards and posters of the SAARC leaders from Bangladesh, Bhutan, India, Maldives, Nepal, Pakistan, Sri Lanka and Afghanistan have been put up. As foreign secretaries of the member countries concluded two-day deliberations on Monday to finalise agenda of discussion for the summit, there have been apprehensions that India, Pakistan bilateral relations may overshadow the summit.
While Modi's official programme has no mention of his meeting with Pakistani counterpart Nawaz Sharif, he would be meeting Afghan President Ashraf Ghani, Bangladesh Prime Minister Sheikh Hasina, Sri Lankan President Mahinda Rajapaksa among others.
Asked about a possible meeting between Modi and his Sharif, External Affairs Minister Swaraj had said, "Wait till Wednesday."
Pakistan's National Security and Foreign Affairs Adviser Sartaj Aziz has said there was no plan for such an interaction between Modi and Sharif. He, however, said Pakistan will consider for a meeting between the two leaders if such an initiative comes from the Indian side.
Image: Sri Lanka's President Mahinda Rajapaksa (centre) waves to the media upon his arrival for the 18th South Asian Association for Regional Cooperation summit in Kathmandu. Photograph: Navesh Chitrakar/Reuters