'We have been allowed to stay till October 2018,' said the party about the notice asking them to vacate their premises, Amit Agnihotri reports.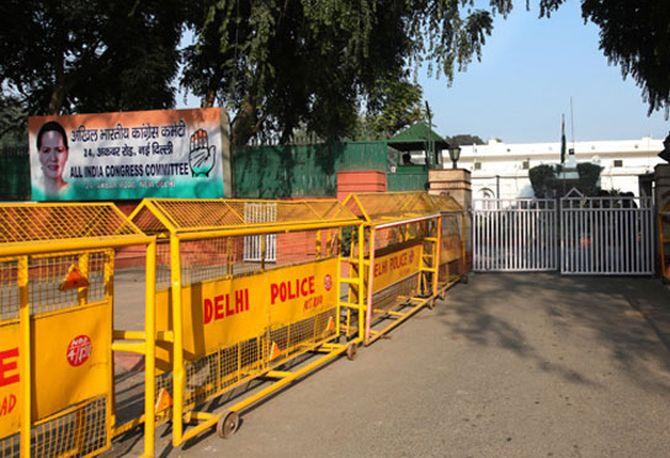 Contradictory views over a likely notice asking the Congress to vacate the party headquarters at 24, Akbar Road, contributed to political tension in the national capital.
The Congress claimed it had permission till October 2018 while government sources said the party had sought an extension a few months back and Urban Development Minister M Venkaiah Naidu was considering the proposal.
"We have been allowed to stay till October 2018. We have received no fresh notice," Congress treasurer Motilal Vora said.
Government sources said given the sensitive nature of the issue, a political call will be taken in the matter at the highest level and Naidu could either consult some other senior ministers or reject the Congress plea. The eviction process will start then, the sources said adding the Congress might be asked to pay market rent on the property from June 2013.
Ministry officials said the issue might go the Cabinet committee on accommodation, headed by Home Minister Rajnath Singh.
The fresh trigger to the controversy has occurred after a gap of two years when the Modi government had issued a notice to the Congress asking the party to vacate the bungalow at Akbar Road due to expiry of lease. The bungalow adjacent to Sonia Gandhi's residence at 10, Janpath, has been the Congress headquarters since 1976.
Government sources said a notice had been sent to the Congress in January 2015 following which the Opposition had said it was not in a position to construct a new party headquarter at Rouse Avenue, as the municipal authorities had not approved its building plans.
In 2010, the Congress was allotted 8,000 sq m at 9-A, Rouse Avenue, to construct a party headquarter.
According to rules, the party was given three years to build a new office and vacate 24, Akbar Road, by June 2013. Besides, 24 Akbar Road, the Modi government had in 2105 cancelled allotment of three other properties in the Lutyen's bungalow zone to the Congress. These are 26, Akbar Road, which houses the Sewa Dal; 5 Raisina Road, where Indian Youth Congress office is located and C-II/109, Chanakyapuri, allotted to Sonia's aide Vincent George.
In 2000, the Vajpayee government had cancelled allotment of the three bungalows. Government sources said the Congress has been told that its three-year extension has lapsed and that the party needed to pay market rent with interest.
"We are paying the appropriate rent," said Vora.
Image: The Congress headquarters situated at Akbar Road. Photograph: PTI