Buffeted by a string of deadly attacks on security forces engaged in anti-Naxal operations, Home Minister Rajnath Singh on Monday pitched for an aggressive strategy to quell Maoist rebels which should instill "fear" in them.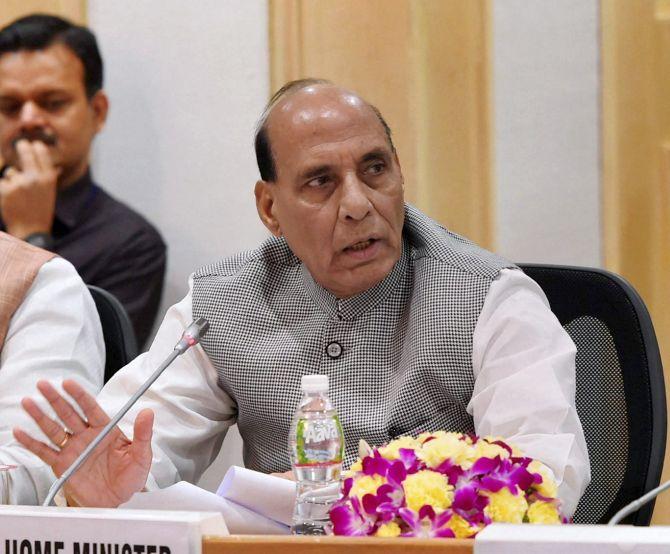 He asked the states affected by Maoist violence to "take ownership" of the operations launched against the Left extremists, while insisting on effective steps to "choke" their finances.
"We have to bring aggression in our policy, there should be aggression in our thinking, aggression in our strategy, aggression in the deployment of security forces, aggression in operations, aggression in bringing development, aggression in road construction.
"We will have to be cautious that extremely defensive deployment may result in reduction of operational offensive," he said in his inaugural address to a conclave of chief ministers and top officers of 10 Maoist-hit states, a fortnight after 25 Central Reserve Police Force personnel were massacred by Naxalites in Chhattisgarh's Sukma district.
"We have to ensure that the states take the ownership in the anti-Naxal operations where Central Armed Police Force will cooperate fully," he said in a tough message to underground Naxal outfits that have continually inflicted casualties on security forces.
Economic resources, he said, play an important role in any war -- only when money is available is it possible to buy, eat, drink and possess ammunition and weapons.
"Therefore, choking the financial resources of the left wing extremists is the most basic mantra in this fight," he said.
Maoist rebels are known to extort money from contractors engaged in almost all development projects being executed in areas they hold sway which they call "levy".
Declaring an all out war, Singh stressed on "unity of purpose" and spoke of a unified coordination and command to counter left wing extremists. Along with strategic command, unified command was required at the operational and tactical level -- besides intelligence sharing which was equally important, he said.
Maintaining that the solution to the Naxal problem did not lay in any "silver bullet", indicating there were no easy ways to wipe out Maoist violence, Singh said everyone must analyse the current strategy, thinking, preparation and resources.
Referring to the enormity of the problem, Singh said as many as 12,000 citizens had lost their lives in Maoist violence over the last two decades. Of these, 2,700 were jawans of security forces and 9,300 were innocent common people.
There were no shortcuts to success, he said, underscoring the need for short-term, medium-term and long-term policies at different levels.
"There is need to find a solution to this problem and the strategy is available and encompassed in the word 'SAMADHAN'. It means S- Smart Leadership, A- Aggressive Strategy, M-Motivation and Training, A- Actionable
Intelligence, D-Dashboard Based KPIs (Key Performance Indicators) and KRAs (Key Result Areas), H- Harnessing Technology, A- Action plan for each Theatr, N- No access to Financing."
Referring to the 9/11 terror attack, he said the United States had taken on the challenge to ensure that there was no repeat. The 9/11 commission stated that the incident was not failure of intelligence but the failure of imagination, he said.
"Therefore, the SAMADHAN, which we have discussed today has inbuilt potential for imagination. We have to work on imaginative thinking on the whole situation so that we can outthhink and outmanoeuvre Left-wing extremists," he said.
Noting that the battle against Naxals had to be fought in concert and to the finish, the home minister asked,"Who could be more suitable and competent than you all? The presence of our forces should instill fear in the left wing extremists and a sense of confidence among the local people and tribals -- 'Let your action speak for itself'."
India is the largest democracy in the world that has been sought to be weakened by the Maoists, he said.
"In order to free India from the influence of Left-wing extremists that encourage violence and killing, it is necessary that we all should think and work in this direction. I believe that efforts to suppress democracy through the influence of the gun will never succeed," he said.
The chief ministers of Bihar, Odisha, Uttar Pradesh, Maharashtra, Chhattisgarh and Jharkhand attended the meeting, while West Bengal's Mamata Banerjee, Andhra Pradesh's N Chandrababu Naidu, Telangana's K Chandrasekhar Rao and Madhya Pradesh's Shivraj Singh Chouhan were either represented by their home ministers or senior officials.
District magistrates and superintendents of police of 35 worst-hit Naxal-affected districts along with heads of paramilitary forces and intelligence agencies also attended the high-level security meet.
IMAGE: Union Home Minister Rajnath Singh chairs a meeting with chief ministers and other Union ministers to review the development and security issues related with left wing extremism at Vigyan Bhawan in New Delhi. Photograph: Shahbaz Khan/PTI Photo