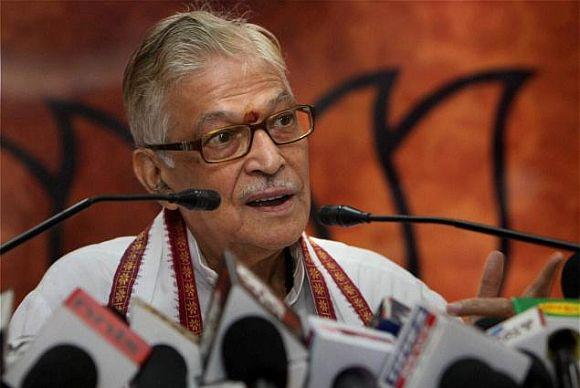 Breaking his silence over the reported row in the Bharatiya Janata Party over a move to field Narendra Modi from Varanasi, Murli Manohar Joshi on Sunday said he would accept any decision the party takes like a "disciplined soldier" and hoped it would neither dent the PM candidate's prestige nor hurt party's electoral chances.
Joshi, who had won from Varanasi last time, said the party's Central Election Committee would take a decision on March 13 and rejected reports of a poster war between supporters of Modi and him in the constituency as the "mental fiction" of media. "The decision will be taken by Parliamentary Board. A meeting (of CEC) is taking place on March 13," he told mediapersons.
Asked if he would accept a decision to field Modi from the prestigious eastern UP seat, he shot back, "every disciplined soldier accepts" party's decision. "I don't talk about such issues outside. Whatever I say is within the party," he said to repeated questions over his stand on the row.
"The party would take a decision which will neither dent the prestige of our PM candidate nor compromise party's winning chances," he said. Joshi is understood to have expressed his unhappiness in the CEC meeting on Saturday over reports that Modi will be fielded from Varanasi and sought clarification from the leadership.
He is said to be unwilling to shift from the seat. Many within the party believe that Modi's presence could galvanise the party's base in the crucial region of eastern UP and maximise its winning chances in UP.
Joshi, who is heading the party's manifesto committee, also met a number of delegations of farmers and said the BJP would favourably look at many of their recommendations, including setting-up of a permanent commission to decide on minimum support price of grains besides other issues related to farmers.