The IAF is down to 34 squadrons. This will dip to 30 squadrons by the end of this decade, as nine squadrons of MiG-21 and MiG-27s retire, warns Ajai Shukla.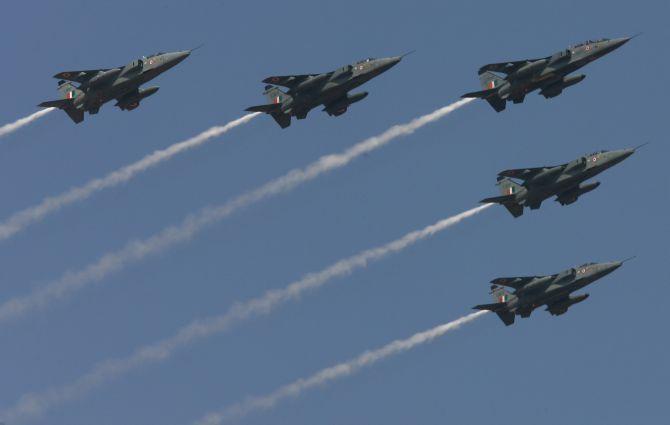 Image: An Indian Air Force Jaguar at the Bengaluru airshow. Photograph: Reuters
With no movement on the contract for 126 Rafale fighters, with the Indo-Russian Fifth Generation Fighter Aircraft far in the future, and the Tejas light combat aircraft being built in insignificant numbers, the Indian Air Force is making up numbers by upgrading older fighters, often at significant cost.
The IAF is down to 34 squadrons, against 42 authorised. This would dip to 30 by the end of this decade, as nine squadrons of MiG-21 and MiG-27s retire, with only three Sukhoi-30MKI and two Tejas squadrons due for induction.
In the circumstances, the IAF is extending the life of two Mirage 2000 squadrons, three MiG-29 squadrons and six Jaguar squadrons for 15 to 20 years. On Wednesday, March 25, French vendor Thales handed over the first two upgraded Mirage 2000-I fighters in Paris.
Over the next seven to 10 years, Hindustan Aeronautics Ltd will upgrade another 49 Mirage 2000s in Bengaluru for Rs 12,100 crore (Rs 121 billion).
Meanwhile, 69 MiG-29 fighters are being upgraded for $964 million -- an exercise the government says will be completed by 2016.
Now, a key IAF concern is to rejuvenate its fleet of 123 Jaguars. In Bengaluru last month, Air Chief Marshal Arup Raha highlighted the urgent need to put new engines on the Jaguar, a $2 billion (Rs 12,000 crore) procurement that the defence ministry has stalled for years.
The IAF bases two Jaguar squadrons each in Ambala, Jamnagar and Gorakhpur. Termed 'deep penetration strike aircraft,' the Jaguar is designed for low-level strikes against enemy ground targets: Air bases, land forces and warships. Powerful engines are essential, since enemy radar would pick up the Jaguars' ingress into enemy territory, and scramble fighters to intercept them.
Said Raha, "(The Jaguar) is a very capable aircraft but it has some shortfalls in terms of engine power. We are also upgrading it by putting in an auto-pilot and some close combat missiles and an upgraded navigation system and weapon aiming systems.'
The 're-engining programme' involves replacing the Jaguar's underpowered Rolls-Royce Adour 804/811 engines with newer, more powerful engines.
Poised to bag this contract is the United States firm, Honeywell, whose F-125N engine generates 43.8 KiloNewtons of thrust, significantly higher than the 32.5 kN of the Jaguar's current engines.
The defence ministry, however, is reluctant because Honeywell is the only vendor in the fray. In response to an IAF tender in 2010, British company Rolls-Royce declined to quote, apparently because it had no suitable engine. Pratt & Whitney, the other big US engine-maker, was unwilling to transfer technology.
Ministry sources say Rolls-Royce muddied the water by lobbying for upgrading the Jaguar's existing engine, rather than fitting a new one.
With HAL manufacturing the new Adour Mk 871 engine for the IAF's Hawk trainer, Rolls-Royce argued it could cheaply build an upgraded Adour engine for the Jaguar, with many common parts.
After dithering for two years over this proposal, the defence ministry issued a fresh tender in October 2012, to which Honeywell offered the F-125N engine, and remains the sole bidder. The MoD remains undecided.
On December 19, 2011, the government stated in Parliament that the Jaguar upgrade would be completed by December 2017. That is a far cry, with the contract still to be negotiated. Only after that would Honeywell begin manufacturing the engines.
Sections in the IAF argue it is wasteful to fit a powerful new engine on 30-year fighters, many of which have already flown 4,000 of the 6,000 hours specified as the Jaguar's service life. Others point out that fighters are routinely given service life extensions, after inspections of the air frame.
To be sure, HAL has accumulated a high degree of expertise on the Jaguar, having manufactured many, overhauled the entire fleet and developed world-class navigational-attack systems (termed DARIN 2 and DARIN 3) that allow pilots to fly blind to a target hundreds of kilometres away, and release their bombs precisely.
The Jaguar is also being equipped with lethal Textron CBU-105 'sensor fuzed weapons', which the IAF procured in 2010 through the US government. This weapon, usually delivered over enemy tank concentrations, breaks up into a large number of smart 'bomblets', which guide themselves to the tanks and penetrate their turrets from above.