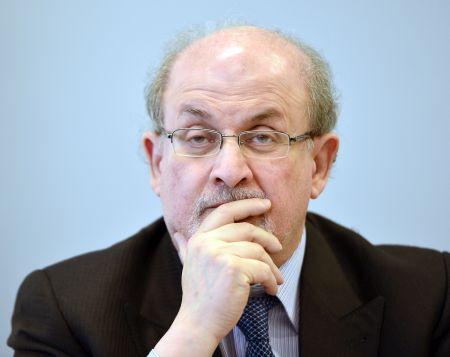 Booker Prize winning author Salman Rushdie, who came under attack for backing authors protesting against "rising intolerance" in India, rubbished the criticism by "Modi Toadies", saying he supported no political party but was against "thuggish violence".
The author was flooded with a barrage of hate messages following his tweet in support of Nayantara Sahgal and other writers who returned their Sahitya Akademi awards protesting against its silence over killings of writer M M Kalburgi and rationalists Narendra Dabholkar and Govind Pansare.
The 68-year-old author responded in another tweet, "Here come the Modi Toadies. FYI (for your information), Toadies: I support no Indian political party and oppose all attacks on free speech. Liberty is my only party."
Toady, is a term referred to a person who praises and helps powerful people in order to get their approval.
His tweets came after the Shiv Sena activists in Mumbai blackened the face of Observer Research Foundation chief Sudheendra Kulkarni over his refusal to cancel the book launch function of former Pakistan foreign minister Khurshid Mahmud Kasuri, prompting strong condemnation from political parties.
"I think what's crept into the Indian life now is a degree of thuggish violence which is new," Rushdie told a news channel.
The Mumbai-born author was in 2012, forced to pull out from the Jaipur Literature Festival citing death threats after some authors used the platform to read out portions from his 1989 novel, 'The Satanic Verses,' which was the target of a fatwa, for allegedly hurting Muslim sentiments.
Meanwhile, author Chetan Bhagat took to Twitter to term as posturing and politics the decision of authors who had announced they were returning the Sahitya Akademi award.
"Accepting an award and then returning it demeans the award and the jury. It's posturing. It's politics," Bhagat wrote.
In another tweet, he questioned the decision of the authors, saying if someone did not like the government in power would they return their passports or their government college degrees? "Why just an award?" he asked.
Bhagat had earned the ire of social media for his tweets "Ok so am I also supposed to return my SahityaAcademy award? Oh wait. Haven't got it yet."
Attempting to be humorous he said, "Is there an award return office? And do they then zap you men in black style so you forget you ever got an award."
The popular author also said, "Politicians not protesting Dadri play to their vote bank. But those protesting it are also playing to theirs. Nothing more. Nothing less."
At least 21 authors have so far announced their decision to return their awards given by the Sahitya Akademi, and five writers have stepped down from the official positions of the literary body, which in turn has convened an emergency meeting on October 23 to discuss the developments.
Photograph: Thomas Lohnes/Getty Images