Outside Rampur, Azam Khan's name may be an alias for controversy.
But Rampur's voters believe that all the improvements in their constituency has been accomplished only by the man they have elected 8 times to the state assembly.
Radhika Ramaseshan reports.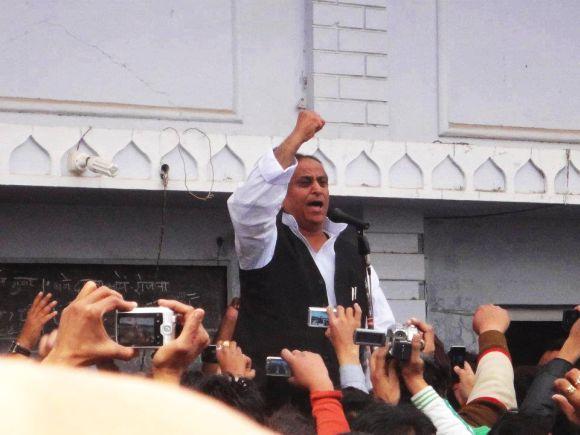 Money speaks in Rampur, a town 37 km to the southeast of Moradabad.
Its people think in terms of crores and serenade the buck because they believe everything they have today is owed to it.
In contrast to Moradabad, where the stench of unclaimed garbage and clogged drains -- made worse by open defecation -- never leaves until one hits the highway, Rampur abounds in verdant spaces and gardens. It keeps fairly well-maintained roads and has open but empty drains.
Not for nothing have its voters elected one individual to the Uttar Pradesh legislature for eight terms because they are convinced that the refurbishment was accomplished only by Mohammad Azam Khan of the Samajwadi Party.
Outside Rampur, Khan's name is an alias for controversy. He carries the image of a religious fundamentalist.
He refused to apologise for saying that 'the Kargil war were won by Muslim soldiers' and accused the Election Commission of religious bias for pulling him up.
The last big dispute he courted was in 2014 when seven buffaloes were stolen from his heavily fortified farmhouse outside the town. The entire district police was kept on its feet until the alleged culprit was tracked down in Moradabad.
Urban development is one of the seven portfolios he holds in the Akhilesh Yadav-led cabinet and he put that to good use rather than the Muslim Waqf, of which he is also in charge.
Firm on erasing whatever marks remained of Rampur's nawab clan, he demolished several gates that the royal family had erected over centuries to encircle the town, certifying them as 'dangerous'.
In their place, Khan has raised a single imposing gate eponymously named Azam ki sarkar (government of Azam).
The municipality building has a circular shape, like Parliament; while a new shopping mall was christened after Mahatma Gandhi.
The roads compete with the best in Lucknow and Saifai, SP founder Mulayam Singh Yadav's hometown, and are adorned with antique looking lamp posts.
The town rarely suffers a power outage and is about to get Uttar Pradesh's longest flyover and India's longest elevated three-way expressway.
According to a close associate of Khan, the revamp cost the state exchequer Rs 1,000 crore (Rs 10 billion).
Khan has unwrapped more goodies for his constituents. He swung a budget of Rs 900 crore (Rs 9 billion) for Rampur's local bodies under the Naya Savera Nagar Vikas Yojana (New Dawn City Development Scheme), of which Rs 82 lakh (Rs 8.2 million) was allotted for the construction of 105 new shops.
He acquired two compactor machines to dispose waste, two road sweepers and a sewer jetty machine.
The offering closest to his heart was a 250 acre university named after Mohammad Ali Jauhar, a leader of the Khilafat movement from Rampur. It has almost every field of study except theology.
"This proves Khan sahab is not communal," said Akbar Masood, the university's administrative officer and an associate of Khan from their days at the Aligarh Muslim University.
The 'private' university offers scholarships granted by the UP government, has Khan as a life-time chancellor, his wife and Rajya Sabha MP Tazeen Fatima as a pro-chancellor, Mulayam as a visitor and Khan's younger son Abdullah Azam Khan as the chief executive officer.
At 26, Abdullah is about to debut in politics and is contesting from Suar-Tanda, 26 km from Rampur.
The reason for choosing Suar-Tanda was it being the only assembly segment among Rampur's six constituencies where the SP led in the 2014 Lok Sabha polls, which the Bharatiya Janata Party's Naipal Singh eventually won.
Abdullah is pitted against the Bahujan Samaj Party's Muhammad Kazim Ali Khan, a descendant of the Rampur nawab.
Popularly known as Naved Mian, the BSP candidate won Suar-Tanda in 2012 as a Congress nominee.
His mother Noor Bano, a Congresswoman, was elected from Rampur in 1999 and is sequestered at home in the Noor Mahal after her party aligned with the SP.
Money speaks even in Suar-Tanda because the buzz was after Khan senior zoomed in on it for Abdullah, he promptly released Rs 300 crore (Rs 3 billion) to straighten roads and drains.
"My politics is only about doing good things for the masses, infrastructure, roads, sanitation, electricity and primary schools for girls. Issues like triple talaq are irrelevant to me," declared Abdullah, while on a break from his campaign.
Indeed, Suar-Tanda is dreaming of transforming itself into a pint-sized version of Rampur.