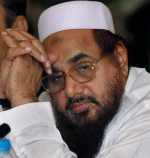 Indian investigators say that for Pakistan's Inter-Services Intelligence the 26/11 mastermind is a friend who furthers their policy against India. Vicky Nanjappa reports   


Pakistan Interior Minister Rehman Malik, during his visit to India that concluded on Sunday, brushed off the Lashkar-e-Tayiba and its chief Hafiz Saeed's link to the 26/11 attacks.
But this came as no surprise to Indian investigators. Malik's statement that there was not enough evidence to act against Saeed was something India had expected. Officers from probe agencies looking into the 2008 Mumbai terror attacks said that they do not expect any result from the neighbours on the issue.   
An officer working with the Research and Analysis Wing told
rediff.com,
"Saeed is part of a policy in Pakistan and any action against him would mean a complete shake-up of their system. He has been authorised to spread hatred against India by influencing several people across Pakistan, and when his support is this strong then it is meaningless on our part to expect any sort of action against him."
Any attempt made by India and Pakistan to improve ties is monitored by Saeed and he has been handed over the role to scuttle any such move.
It was only recently that Pakistan had decided to rename a traffic roundabout in Lahore -- Fawara Chowk at Shadman -- after revolutionary freedom-fighter Bhagat Singh. But the Pakistan government put off its plan after receiving threatening letter from the Saeed-led Jamaat-ud-Dawah that had opposed naming any square on non- Muslims.
A Pakistani court on November 28 extended by three weeks a stay on a move to rename the roundabout.
According to officers in India, every year Saeed ropes in thousands of people from Pakistan and other parts of the world to spread hatred against India. However, post 26/11 he has been asked to tread cautiously while making statements, especially against the United States. He has also been told to keep his forces in check against the US. Saeed's offer to contribute funds in the aftermath of Hurricane Sandy is also one such move to show that he is not anti-America.
A National Investigation Agency officer, probing Saeed's role in the 26/11 attacks, said that no amount of evidence would actually be sufficient to nail Saeed. Dossiers and documents and several other pieces of evidence have been shared, but Pakistan appears to turn a blind eye as far as Saeed is concerned.
Saeed's role in the Mumbai attacks was largely that of a motivator. LeT terrorists Ajmal Kasab, Abu Jundal and David Headley have spoken about their interactions with Saeed while they were being trained for the terror strikes.   
Saeed was away from the operational part of the plan although he was in the know of things all the time. This is something that is very difficult for India to ascertain, as the culprit is housed in a country, which is very hostile on matters concerning the JuD chief, the officer said.
Investigators will point out that nailing a motivational operative in any sort of crime is a daunting task. The only way to get this done is to have the accused speak about the offence and this can only be achieved through an interrogation. The rest would be based purely on circumstantial evidence. In order to nail an accused on the basis of circumstantial evidence it is important to have his statements and then club both and produce it before a court, they added.
Hence, it is important that India either gets access to Saeed or Pakistan conducts a serious interrogation on him. During the interrogation, Saeed's role in the attack will have to be questioned. He will have to be probed based on the statements made by Kasab, Jundal and Headley.

The NIA said that it was easy for Malik to say that there was lack of evidence. "How can there be evidence if there is no probe by them (Pakistan) in the first place? Their probe needs to be been based on the evidence that India and the US had provided against Saeed," an officer said.
Officials in the Intelligence Bureau say that Pakistan will continue to be soft on Saeed because he knows too much about the establishment and its role against India. Moreover, he has the ability to influence millions in Pakistan.
What is ironic is that Saeed has managed to convince many in Pakistan that he is a victim of conspiracy and not an accused in the 26/11 case. What makes matters worse is that he is not considered to be a rogue by Pakistan's Inter-Services Intelligence, but is looked at more as a friend who furthers their policy against India, according to the IB.