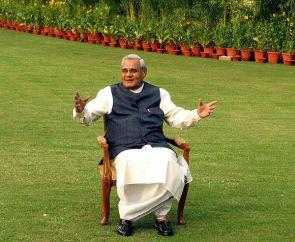 The Bharatiya Janata Party on Sunday asked why India's highest civilian honour, Bharat Ratna, has not been conferred on former prime minister Atal Bihari Vajpayee.
"Bharat Ratna awarded to Sachin Tendulkar and scientist CNR Rao. I congratulate them. But today I am raising a question here that why Atal Bihari Vajpayee has not been awarded Bharat Ratna? He contributed in the formation of Chhattisgarh and he was the most popular Prime Minister...," deputy leader of Opposition in Rajya Sabha, Ravi Shankar Prasad told reporters.
He also expressed anger over the 'Iron Man of India' Sardar Patel been awarded the Bharat Ratna posthumously.
"Sardar Patel was a 'ratna' (gem) of the country. He died in 1950 while Bharat Ratna was conferred on him in 1991. Why 41 years of delay in giving the award? Between that period Jawaharlal Nehru was (PM) for 17 years, Indira Gandhi for 16 years and Rajiv Gandhi for 5 years, and Bharat Ratna was given to several people, then why Patel was given after 41 years?" Prasad asked.
"I am saying all this today because the perspective of Congress towards political leaders for awarding Bharat Ratna does not go beyond the dynasty," Prasad said.
He, however, said after the next general elections if BJP comes to power, it will felicitate Vajpayee with the highest civilian honour, which he deserves.
Reacting to Congress vice-president Rahul Gandhi's statement calling BJP a "party of thieves," he said, such kind of unparliamentary words were not even used by his great-grandfather, grandmother or father.
"Rahul Gandhi is the great grandson of Nehruji, grandson of Indiraji and son of Rajiv Gandhi...they have not used such unparliamentary word for any Opposition parties... what Rahul has learned from his ancestors?" he asked.
Citing a newspaper report in which the Centre's labour department ranked Chhattisgarh lowest in rate of unemployment, he said Rahul should do his homework when he claims that people are unemployed in Chhattisgarh.