It's jobs and not more welfare that people want, says Republican gubernatorial challenger Neel Tushar Kashkari, who posed as a homeless job seeker for 7 days. Aziz Haniffa reports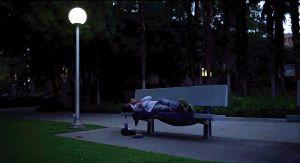 Neel Tushar Kashkari, the multi-millionaire Republican gubernatorial challenger to incumbent Democratic Governor Jerry Brown, recently went incognito as a homeless job seeker for 7 days.
Kashkari, 41, wanted to illustrate how difficult it is to gain employment in California, and to counter Brown's claims that the state's anaemic economy is turning around.
His campaign released a video of an unshaven Kashkari -- who is trailing Brown, who is seeking an unprecedented fourth term, by nearly 30 percentage points -- sleeping on park benches and going into convenience stores with a torn backpack, asking for work and being turned down.
'The solution is simple,' said Kashkari, who reportedly lives in a $10 million home on Laguna Beach, and who is opposed to raising the minimum wage. 'It's jobs. It's not more welfare. It's not more food stamps. It is jobs. And we know how to do this. Everything starts with education and jobs. We talk about temporary help, but if the bridge is a bridge to nowhere, what does it matter? There has to be land, and that land has to be a job.'
He argued that raising the minimum wage wouldn't have helped him get a job. 'Absolutely not, it would have made it harder,' he said. 'We know how to rein in regulations so our businesses can grow and thrive and hire.'
The Brown campaign and some church groups in Fresno -- where Kashkari roamed around as a homeless person -- dismissed his attempt as a publicity stunt.
The New York Times quoted D J Kriner, pastor of the St Rest Baptist Church in Fresno, who has worked with the homeless for more than a decade, describing Kashkari's video as 'pure buffoonery for publicity. To pose as a homeless man is just wrong -- it's no different than a white man putting on a black face and saying he knows what it is to be black.'
Dan Newman, a spokesman for Brown's campaign, was quoted as saying, 'If this were more than a stunt, would he oppose providing unemployment benefits for people without jobs and fight the minimum wage for the working poor?'
The Wall Street Journal carried a piece by Kashkari where he outlined his experience: How he took a bus from Los Angeles to Fresno with just $40 in his pocket, with a video crew in town documenting the five days he spent, sleeping on park benches and parking lots while seeking a job and not finding any employment and running out of money.
'Five days into my search, hungry, tired and hot, I asked myself: What would solve my problems? Food stamps? Welfare? An increased minimum wage? No. I needed a job,' he wrote. 'I walked mile after mile in 100-degree heat searching for a job. I offered to do anything: wash dishes, sweep floors, pack boxes, cook meals, anything. I went to dozens of businesses in search of work but wasn't able to get any.
'In seven days, I didn't see a single 'Help Wanted' sign, but I did see plenty of signs that fast-food outlets now accept food stamps. I was committed to finding a job.'
'It was my top priority, but halfway through the week my priority was forced to change: I barely had any money left and needed to find food.'
'Fortunately, kindhearted homeless residents in Fresno pointed me to a shelter, Poverello House, which provides services to the homeless. I had no choice but to join the hundreds of men, women and families who go to the shelter for food. As the shelter did not have any beds for me I slept on the streets all six nights. I had only one shower during that time.'
He wrote, 'The people I met during my week in Fresno are proud. They don't want to be homeless. They don't want to be poor. They don't want to depend on a shelter or the state. Most want jobs but simply cannot find one.'
The Sacramento Bee quoted Gary Stephens, who was waiting for food outside River City Food Bank, as saying, 'I think everybody that works at the Capitol should do that -- spend a whole week in the normal world instead of being in their nice comfy offices.'
The Bee also quoted Rose Parker, waiting for free groceries from the food bank, as saying, 'I think it was nice that he (Kashkari) did that. Now he knows what a lot of people are going through.'
Inside Bay Area's Josh Richman wrote, 'You've gotta give him credit for cojones. Whether California voters believe the state is worse off under Brown's stewardship remains to be seen, but this is not something you would've seen Meg Whitman, Arnold Schwarzenegger, Bill Simon, Dan Lungren or Pete Wilson do in a million years.'
Image: Republican gubernatorial challenger Neel Tushar Kashkari