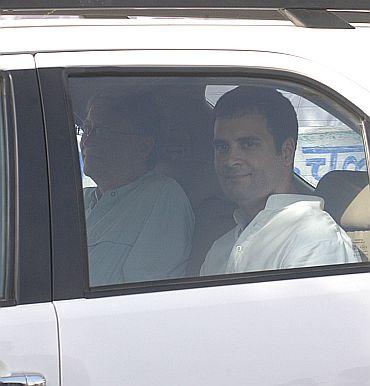 What was Congress general secretary Rahul Gandhi's objective behind arranging a day-long visit by high profile tycoon Bill Gates to Rae Bareli and Amethi on Tuesday?


Even as speculation was rife that the Gandhi scion was looking for financial assistance for his family trusts, the million-dollar question is doing rounds among locals in Amethi, Rahul's parliamentary constituency and in Rae Bareli, his mother and Congress chief Sonia Gandhi political bastion.
Congress leaders appear as clueless and inquisitive as the man on the street as the world's wealthiest man was taken around India's most high profile MP.
The factor that Rahul was busy showcasing al the 'good work' being carried out by trusts and foundations run by the Gandhi family further compounded the impression that the visit was aimed only at promoting the family trusts, that are engaged in commendable social work in the area.
Be it the interaction with women self-help groups at the Jais-based Rajiv Gandhi Mahila Prashikshan Kendra run by Rajiv Gandhi Charitable Trust, or the Indira Gandhi Eye Hospital and Research Centre at Munshiganj in Amethi run by the same trust, or the special eye camp in a primary school in remote Shahgarh village of Amethi, it was all a 'family affair.'
Speculation was also rife that it was primarily on this account that Rahul shunned the media. "I am not aware why, but this time we have been told strictly keep the media away," remarked a Special Protection Group official accompanying Rahul.
"No one invited the media this time, so why have you come? This visit has nothing whatsoever for the media," observed a Congressman who had been trailing Rahul, right from Fursatganj flying academy where he landed in a chartered plane along with Gates earlier on Tuesday morning.
Significantly, neither Gates nor Rahul exchanged any word with the huge assembly of patients either at the Indira Gandhi Eye Hospital nor at the special eye camp in Shahgarh village.
Image: Rahul Gandhi with Bill Gates, during their trip to UP