Bharara's presence at Trump Tower provoked much curiosity.
George Joseph reports from New York.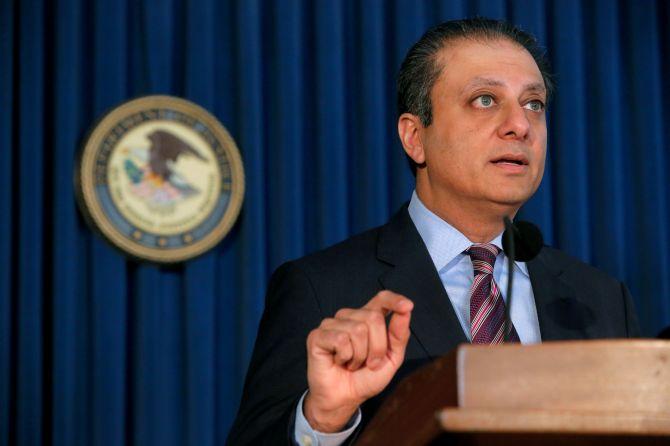 Preet Bharara, the United States Attorney for the Southern District of New York, will stay on in the post in the Trump administration.
Bharara, often called the Sheriff of Wall Street, visited President-elect Donald Trump on Wednesday, November 30.
'We had a good meeting. I said I would absolutely consider staying on. I agreed to stay on,' Bharara said after the encounter at Trump Tower.
'I have already spoken to Senator (Jeff) Sessions, who is, as you know, is the nominee to be the attorney general. He also asked that I stay on, and so, I expect that I will be continuing to work at the southern district,' he added.
Sessions will be Bharara's new boss beginning January 20.
Born in Jalandhar, Bharara came to the US as a three year old in 1970. He grew up in Monmouth County, New Jersey, and graduated from Harvard in 1990 and the Columbia Law School in 1993.
He was US Senator Charles Schumer's chief counsel when President Barack Obama appointed him to his current position, widely considered to be the most prestigious legal position in the US after the attorney general.
Bharara said he believes Trump invited him to his office 'presumably because he's a New Yorker and is aware of the great work that our office has done over the past seven years.'
'The President-elect asked for a meeting to discuss whether or not I'd be prepared to stay on as the United States attorney to do the work as we have done it, independently, without fear or favour for the last seven years,' Bharara told the media.
Bharara's pursuit of insider trading cases beginning in 2009 earned him a Time magazine cover and the title of 'top cop' on Wall Street.
His office twice forced Citibank to pay substantial sums in 2012 and 2014 for pushing risky loans. In 2012 it also pursued, and won, a mortgage fraud case against Bank of America.
Several of ponzi fraudster Bernie Madoff's associates were convicted as a result of the work done by Bharara's office.
He also did not spare corrupt politicians either. Bigwigs like New York state Assembly Speaker Sheldon Silver and Republican Majority Leader Dean Skelos were arrested and convicted.
Earlier this year, he warned New York City Mayor Bill de Blasio and New York Governor Andrew Cuomo to stay in line, or he'd come after them, too.
IMAGE: Preet Bharara, the US Attorney for the Southern District of New York. Photograph: Andrew Kelly/Reuters