The PM flew to Moscow on one aircraft, then to Kabul and Lahore on another.
Was Prime Minister Narendra Modi's trip to Pakistan really impromptu or a well thought out strategy to foster peace between the warring neighbours?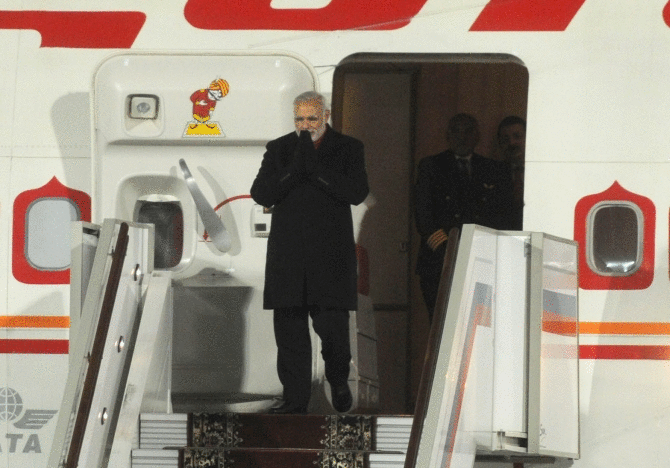 An indication that the schedule for Modi's stop-over in Pakistan had been planned in advance could be gauged from his change of aircraft at Moscow where he was on a two-day visit.
The prime minister switched his Air India One (AI-001) for the Indian Air Force's customised 46-seater Boeing business jet.
The IAF aircraft is used by the President, vice-president and prime minister for flying within India and to neighbouring countries.
So even as Modi tweeted, just before his departure from Kabul on Friday afternoon, that he was going to 'drop by' in Lahore for a meeting with Prime Minister Nawaz Sharif who was overseeing his granddaughter's (Maryam Nawaz's daughter) wedding, preparations seemed to have been made much earlier by the Indian authorities.
One explanation could be that Air India One, a Boeing 747-400, does not have protection against incoming missiles -- something that may have weighed on the minds of the security agencies considering that the prime minister was to fly over conflict zones in Afghanistan and Pakistan.
The Boeing business jet, one of three inducted in 2009, flown by IAF pilots from the force's communication squadron, is equipped with electronic countermeasures that can protect the aircraft from incoming missiles.
The Rs 200 crore (Rs 2 billion) ECM suite has a missile advanced warning system that sets off an alarm in the cockpit when a radar locks onto the aircraft. The aircraft can then launch chaff and flares to decoy incoming missiles.