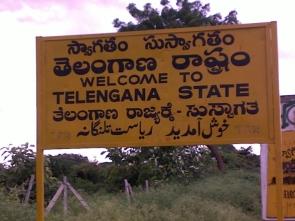 Is the proposal by the Group of Ministers to form a new state -- Rayala Telangana -- with two more districts a political strategy? Vicky Nanjappa finds out
The government has 18 days to fulfill its Telangana ambition. Even as preparations are on to table the bill in the winter session of Parliament between December 5 and 20, the Group of Ministers, set to look into the bifurcation of the state, is struggling to redraw the boundaries.
After hours of deliberations, the GoM in its draft is said to have stated that the boundaries of Telangana need to be redrawn before the state is formed. The new state could be called Rayala Telangana and it would include the districts of Anantpur and Kurnool. The new state would comprise 147 assembly constituencies and 21 Lok Sabha seats.
However, this proposal is not likely to see the light of day. The idea of Rayala Telangana is likely to trigger protests in Andhra Pradesh. Moreover, the Bharatiya Janata Party along with pro-Telangana members of Parliament will oppose a bill that includes this proposal.
Pro Telangana activists, who are not entirely anti-Congress, will become their enemies. The people of Rayalaseema are not keen to be a part of the new state. They do not want to become minorities in Telangana.
Telangana leaders tell rediff.com that the Rayala Telangana formation is against the interests of the people. "This is a political move. The Congress feels that it can checkmate YSR Congress President Jaganmohan Reddy by eating into his Rayalaseema base. But this decision will go against the Congress in both Telangana and Rayalaseema. They should drop this idea" they feel.
When a decision on a separate state was taken by the Congress working committee, it said that Telangana would be formed with 10 districts and Hyderabad would be the common capital of the two states for 10 years. Any change in that call would mean convening another cabinet meet, which would further delay the process.
New Delhi appears to be in a great hurry to pass the Telangana Bill in the winter session. After a GoM meet scheduled to be held on Monday or early Tuesday, a special cabinet meet is expected to be held to approve the bill.
The bill will need a go ahead from President Pranab Mukherjee, after which it will be sent to the Andhra Pradesh assembly for an opinion. And then the bill will reach the Parliament.