The party is using the two year occasion to launch its election campaign in the state, which was key to them reaching simple majority in the Lok Sabha in 2014, reports Archis Mohan.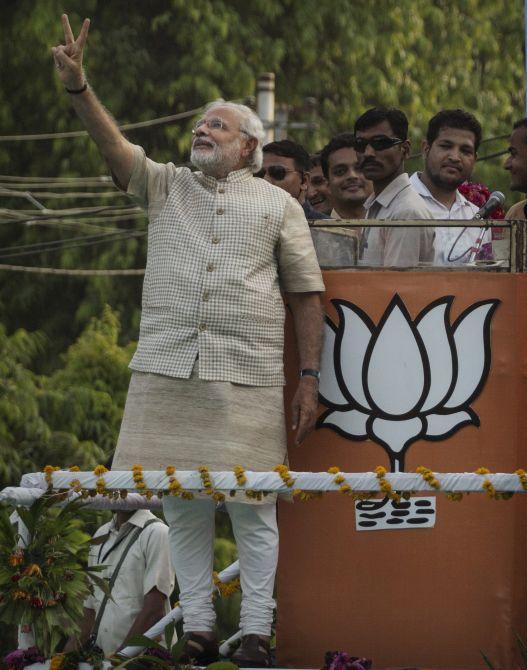 Prime Minister Narendra Modi will address a public rally in Saharanpur in western Uttar Pradesh to mark two years of his government on May 26. Several senior Cabinet ministers and Bharatiya Janata Party president Amit Shah, too, will address a series of public meetings in UP. The state, which was the key to the BJP reaching simple majority in the Lok Sabha in 2014, is due for assembly polls in early 2017 and this will be the party's unofficial launch of its UP election campaign.

The PM will also visit his Lok Sabha constituency in Varanasi as part of the fortnight-long two-year anniversary celebrations. The BJP considers western UP its stronghold and the focus of the PM's speech will be to highlight his government's schemes for farmers, especially sugarcane growers, of the region.

There is also the possibility of increasing UP's representation in the council of ministers. The party, in an effort to consolidate its Jat support base in western UP, has asked Rashtriya Lok Dal chief Ajit Singh to merge his party with the BJP. Singh, at least until now, is insistent that the two parties have a seat-sharing arrangement for the UP Assembly polls.

As part of its second anniversary, the BJP will hold meetings and rallies in around 200 places across India from May 26 to June 10. It has prepared copious propaganda material of its achievements, including how Mudra Bank loans have been disbursed to 32.5 million people across the country, a third of whom are women.

Of the other ministers, Home Minister Rajnath Singh will visit Patna, Dehradun, Pune and also Pathankot in Punjab. The Punjab city had suffered a terror attack in January.

"Finance Minister Arun Jaitley, External Affairs Minister Sushma Swaraj and Roads and Surface Transport Minister Nitin Gadkari will also address public meetings in several places across the country. The party has also organised day-long training workshops for its spokespersons and social media team," said party general secretary Arun Singh.

When his government had completed a year in May 2015, the PM had addressed a public rally at the birthplace of Bharatiya Jan Sangh founder Deen Dayal Upadhyaya in a village in Mathura. Upadhyaya is also credited with the coining the concept of 'Antyodaya', or welfare of the poorest.
Of late, the Modi government's earlier slogan of 'Sabka Saath, Sabka Vikas' (together with all, development for all) has increasingly been replaced with its new leitmotif of Antyodaya with the PM repeatedly stating that his government stood for the interests of the farmers, rural India and the poor.
Photograph: Kevin Frayer/Getty Images