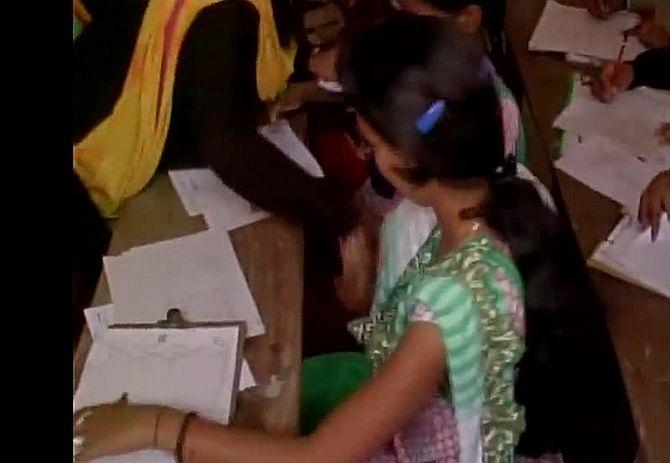 'Our parents have been fighting to earn a livelihood. They can't afford coaching or home tutoring. Please pass me.'
M I Khan reports from Bihar.
Thanks to strict measures to stop cheating in examinations in Bihar, students have started placing currency notes of Rs 100, 500 and 1,000 in their answer sheets with requests to the examiners to give them passing marks.
This year, the Bihar School Examination Board had used strict measures against mass cheating and the use of unfair means in Class 10 and 12 exams.
CCTV cameras have been installed at examination centres and the 'unlawful assembly' of five or more people banned under prohibitory orders.
After the Bihar School Examination Board conducted nearly cheating-free examinations last month, a large number of students have been living in fear of failing the Class 10 and 12 exams.
BSEB officials have admitted that the pass percentage is likely to fall drastically. The results are expected next month.
What is the talk of the town these days in Bihar is that a large number of examinees have placed 100, 500 or 1,000 rupee notes in their answer sheets to secure pass marks.
"It is a sort of bribe to the examiner," says Jogender Sharma, a teacher who is currently busy checking Class 10 answer sheets in Vaishali district.
To secure pass marks in Hindi, students place Rs 100, reveals another teacher. But for English, mathematics and science, students place Rs 500 and some even Rs 1,000 notes in answer sheets with a 'request'.
'Please pass me, there was no cheating possible this year. I have been trying to pass the exam for the last two years,' reads one such request.
Another request reads, 'Our parents have been fighting to earn a livelihood. They can't afford coaching or home tutoring. Please pass me.'
Some students come up with 'requests' to examiners to pass them so that they can get married. Some of them ask the examiners to treat them like their sons and daughters and pass them.
Some students request the examiners to pass them in subjects, by writing in block letters that there is no teacher to teach those particular subjects in their school.
Mass cheating in board exams has been rampant in Bihar for years. Every year, it is common to see photographs of scores of people climbing window sills to hand over cheating material to examinees with impunity.
Last month, nearly 1,000 students were caught cheating in Class 10 exams across Bihar. Dozens of 'cheating helpers' were also arrested.
Nearly 1.57 million students appeared in the Class 10 exams at 1,309 centres across the state.
The Bihar School Examination Board put in place similar tough measures for the Class 12 exams. Nearly 2,000 students were expelled after they were caught cheating.
IMAGE: A typical examination centre in Bihar. Photograph: ANI/Twitter