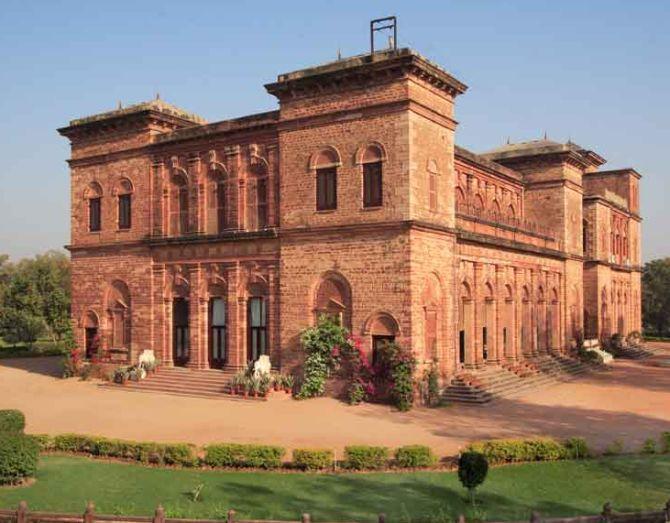 Dismissing Bharatiya Janata Party's denials, Congress on Tuesday persisted with its demand for the sacking of Rajasthan Chief Minister Vasundhara Raje, saying there was a "criminal nexus" between her family and former Indian Premier League boss Lalit Modi.
"There has been a criminal nexus between Lalit Modi and the Vasundhara Raje family," party leader Jairam Ramesh told reporters.
Declaring that Congress will not stop disclosures in the till a "closure" is done by the BJP by removing Raje, Ramesh released some fresh documents including one of 1949 which showed that the Dholpur Palace was owned by the Rajasthan government.
For the second consecutive day, Ramesh accused her of "forcible, illegal occupation" of the Dholpur Palace along with Lalit Modi through a private company.
Ramesh said that the party has also not forgotten the case of External Affairs Minister Sushma Swaraj who had helped Lalit Modi with travel documents.
"We have not forgotten about the 'videsh mantri'. Closure and disclosure in her case is yet to come", he said. Taking a dig at Swaraj, he said, " Lalit Modi was helped on "humanitarian grounds, grounds like hanging out with Naomi Campbell."
Insisting that the compromise between Hemant Singh, estranged husband of Raje and son Dushyant Singh was only for movable property, he claimed that despite much evidence produced by him, the BJP is trying to justify ownership of the property with Dushyant with "lame duck" arguments.
He said that the compromise was brought about in 2007 by the additional dist Judge of Bharatpur in a case titled 'Dushyant vs. Hemant Singh'.
He alleged that despite the palace and the land surrounding belonging to Rajasthan government, Dushyant Singh received a compensation of nearly Rs 2 crore from the National Highways Authority of Indiafor a 500 metre piece of land due to "nexus" between him and the Land Acquisition officer.
"He (Dushyant Singh) got a compensation of Rs 2 crore, and that is a scam which needs to be investigated", he demanded.
Ramesh said that government and BJP are making in vain attempts to disprove the "unholy nexus" between Raje and Lalit Modi, their co-ownership of Niyant Heritage Hotel Pvt Ltd and "patent illegal usurpation" of a government property for construction of a high-end luxury hotel.
Congress has been demanding resignations of Swaraj and Raje over Lalit Modi controversy, of Human Resource Development Minister Smriti Irani over misrepresenting facts about her educational qualification in separate election affidavits and of Maharashtra minister Pankaja Munde for her alleged involvement in a "scam" by clearing purchases worth Rs 206 crore on a single day instead of inviting tenders in violation of the norms.
Seeking to debunk BJP's claims that Dushyant owned the DholpurPalace, Ramesh said that the list of property of the Dholpur state at the time of its accession to India was a "clincher" on ownership of the Dholpur palace as it clearly showed that it belonged to the state government.
The document, he said, "overrides" all other documents on the ownership issue as the instrument of accession of all the princely states was prepared when a stalwart like Sardar Patel was the home minister and an eminent civil servant V P Menon was the home secretary.
When asked about reports that the ED has sought legal assistance from Singapore and Mauritius to take forward its probe in the alleged financial irregularities in the IPL and by Lalit Modi, Ramesh said that it should be done.
"Already the investigation is delayed. It should be seen that the probe is carried out independently without interference from any quarters," he said.
Congress has been alleging that Lalit Modi had used the "Mauritius route" to invest in the company jointly owned by him and the Raje family.
Ramesh wondered whether the recent move of the Raje government to slash taxes on tobacco products (other than beedies) is yet another blatant attempt to help Lalit Modi-owned cigarette manufacturing company.
Image: The Dholpur Palace is embroiled in a controversy. Photograph: dholpurpalace.com