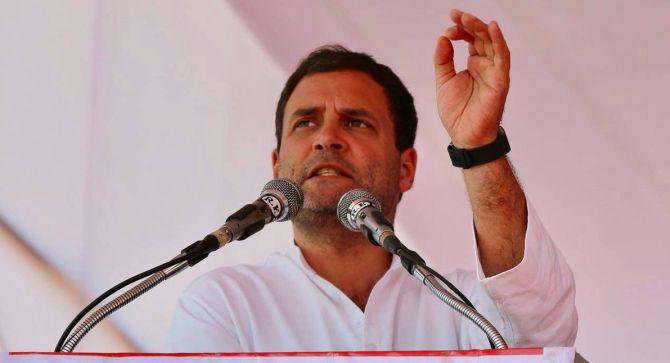 Taking a swipe at Prime Minister Narendra Modi over his China visit, Congress president Rahul Gandhi said today he would remain silent on the Doklam issue during his talks with President Xi Jinping, and wondered where his '56 inch chest' has gone.
He also slammed Modi over his 'silence' on alleged corruption by Bharatiya Janata Party leaders, including its chief Amit Shah's son and for declaring B S Yeddyurappa, who had 'gone to jail' as its chief ministerial candidate.
"I have heard that he (Modi) is visiting China. You just see, take it in writing from me. China's army is sitting in Doklam and he will not utter a word on Doklam in China, you just watch."
"He (Modi) won't utter a word, this is 56 inch chest. Only hollow words, false promises," Gandhi,who is on a two day election campaign tour of Karnataka, told a public rally in Bantwal in Karnataka.
The Congress president spoke of how Modi had hosted Xi in his home state Gujarat and the Chinese troops made an incursion into Indian territory.
"In Gujarat, on the banks of a river, Narendra Modiji sits on a swing with the Chinese president. Chinese president goes back home and puts Chinese army in Doklam. I don't know where his (Modi's) 56-inch chest had gone, Narendra Modi ji did not utter a word," he said.
Chinese soldiers had intruded into Indian territory in Chumar area of Ladakh in September 2014 during Xi's India visit.
The Congress chief, who released the party's election manifesto for the Assembly polls in Mangaluru earlier in the day, said, "Modiji, wherever he goes, speaks his Mann ki Baat, but our manifesto is not our mann ki baat.... it is the mann ki baat of Karnataka's youth, women and poor."
He said the manifesto was not prepared by two or three Congress leaders in a closed room, and that people of every district and region were consulted.
Gandhi also said, "Modi ji folds his hands in front of (12th century social reformer) Basavanna's statue, garlands it, and then he gives eight tickets to Reddy brothers."
"He says he stands against corruption.... but then he stands with Yeddyurappa (the BJP's chief ministerial nominee), who has spent time in jail, on one side, and four MLAs who have savoured jail food on the other," he added.
Taking a jibe at the prime minister over Bharatiya Janata Party allotting party tickets to the Reddy brothers and their supporters, he said, "Modi ji likes changing names. Earlier it was Planning Commission. He changed it to NITI Ayog. Now he has changed the CBI's name to Central Bureau of Illegal Mining."
The influential Reddy brothers of Ballari were accused of involvement in illegal iron ore mining in several states, and two of them have been fielded by the BJP in the polls.
"It (CBI) is an agency that gives clean chit toReddy brothers, it does whatever Modiji asks it to do. If you want theft to happen from Karnataka, Modi ji will get it done. Amit Shah and Modi ji will give them (Reddy brothers and their men) eight tickets and then they will give speeches that they are against corruption," he said.
He alleged the Reddy brothers had looted Rs 33,000 crore from Karnataka by way of the mining scam.
The Congress president also accused the prime minister of keeping quiet over atrocities against women.
"Narendra Modi gave the slogan 'Beti Bachao,Beti Padhao'. Now the slogan has changed, wherever you see parents in India are trying to save their daughters from BJP leaders," he said.
Referring to the alleged involvement of an Uttar Pradesh BJP MLA in a rape case, he said, "The new slogan is only 'Beti Bachao, Beti Bachao' (save your daughters) from BJP leaders. Narendra Modi, the country's chowkidar, did not utter a word on their MLA indulging in rape."
Gandhi said when a rape incident happened in Jammu and Kashmir, the prime minister only said there should be no atrocities against women.
"Modi ji, we know, but you do something about this, the whole country is burning, there are atrocities against Dalits, minorities are being attacked, women are being attacked, and you are just watching," he said.
Addressing a public meeting at Gonikoppal in Kodagu district, Gandhi, without making any specific reference, said Modi was told at a conference abroad that he and his government were not working towards protecting women and said 'it is a shameful thing'.
He questioned how Modi could speak about corruption when BJP had projected a 'tainted' person like Yeddyurappa, who had been in jail, as the chief ministerial candidate.