Here are all the sidelights from the swearing-in ceremony.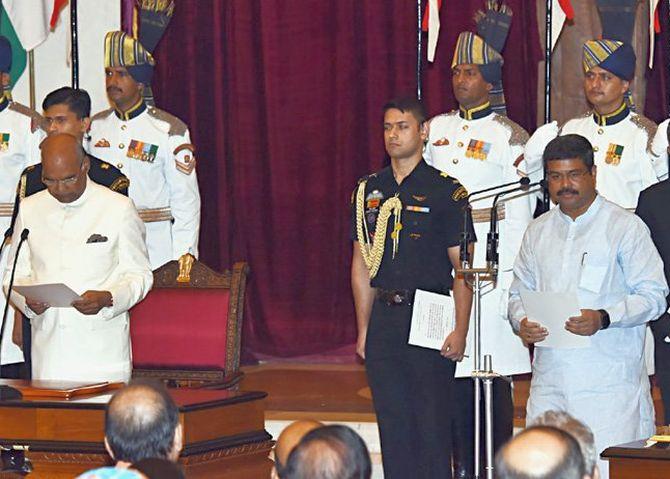 When Petroleum Minister Dharmendra Pradhan took oath in Hindi as a Cabinet Minister, President Ram Nath Kovind made him repeat two words to correct his pronunciation.
When Kovind was the Bihar governor, he made Lalu Yadav's son Tej Pratap to repeat the oath of office after he misread the Hindi word apekshit (expected) during the swearing-in ceremony of ministers.
******
A woman, who was one of the guests at the swearing-in ceremony of council of ministers at Rashtrapati Bhavan, fainted just before the event was to begin.
When she felt uneasy, people sitting next to her made her lay down on the chairs before the medical staff of the president rushed to provide her first aid.
The woman, in her fifties, was soon taken out on a stretcher. Low blood pressure was said to have triggered her medical condition, officials present there said.
******
Niramala Sitharaman, elevated as a Cabinet minister, and Alphons Kannanthanam, appointed as a minister of state, took the oath in English. All others took oath in Hindi.
******
Except leader of the opposition in the Rajya Sabha Ghulam Nabi Azad, there was no representative of the Opposition in the swearing-in ceremony.
******
Kalraj Mishra and Sanjeev Balyan, who have resigned as union ministers ahead of the reshuffle, were present at the ceremony.
******
BJP veterans L K Advani and M M Joshi, who are also part of the party's 'marg darshak mandal' were conspicuous by their absence.
******
Prime Minister Narendra Modi, who was to leave for China, left soon after the ceremony was over. He, along with President Kovind and Vice President M Venkaiah Naidu, posed for a group photo with new ministers at Darbar Hall of Rashtrapati Bhawan, the venue of the event.
Photograph: Press Information Bureau