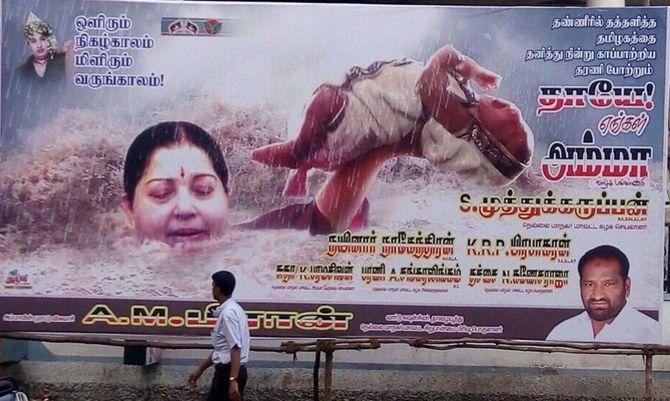 Tamil Nadu loves Jayalalithaa… Remember those images of people crying tears of joy when she was acquitted of all charges in the disproportionate assets case and was let out of prison.
Well, here's another example of the sycophancy.
Even as Tamil Nadu battles the flood situation and tries to stay afloat, a poster by Thirunelveli's regional office-bearer S Muthukaruppan and other worthies has gone viral on the internet.
The text on the banner says: 'Long live Amma, who single-handedly rescued the state that was drowning in the floods!'
The poster also shows Chief Minister Jayalalithaa holding an infant aloft in the floods -- inspired from the epic opening scene of Rajamouli's blockbuster film Baahubali.
The poster has evoked sharp reactions on social media, many viewing it as a slap in the face of the huge citizen efforts underway in Chennai at a time when it appears that authorities and officials are nowhere to be seen.
One is left truly speechless, yes.