Even as Europe continues to struggle with the large influx of migrants, European Commission President Jean-Claude Juncker proposed a quota system that each country should adhere to for asylum seekers. '
Rediff.com presents the latest updates in the crisis.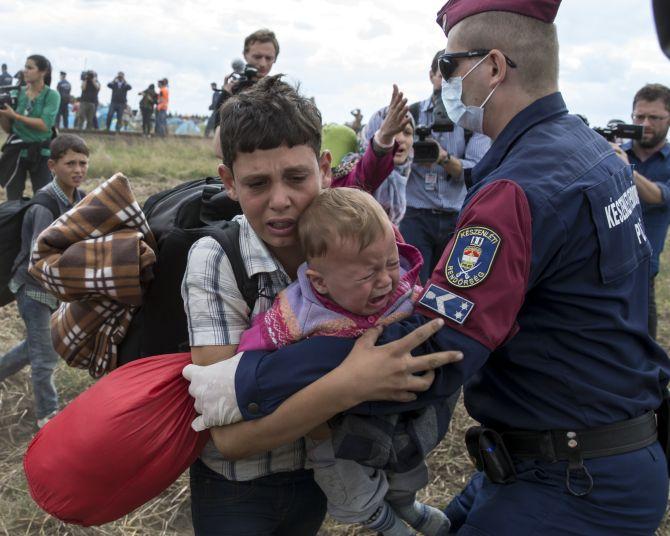 A Hungarian policeman attempts to stop a migrant carrying a baby to run from a collection point in Roszke village, Hungary. Photograph: Marko Djurica/Reuters
1.
European Commission's President Jean Claude Juncker has announced a 'swift, determined and comprehensive' response to Europe's migrant crisis. Through the new system, European countries would take in a share of 160,000 migrants via a quota scheme.

According to the scheme, Germany would accept 35,000 refugees, France 26,000 and Spain 16,000. Even poverty-stricken Bulgaria and Romania will be expected to take thousands of families. The new plans would relocate 60 per cent of those now in Italy, Greece and Hungary to Germany, France and Spain.
2.
Australia's Prime Minister Tony Abbott announced that it would accept 12,000 Syrians from persecuted minorities. That is on top of the 13,750 overall intakes of confirmed refugees for 2015. Australia will also expand its role fighting the Islamic State to include its Syrian strongholds. "This is a very significant increase in Australia's humanitarian intake and it's a generous response to the current emergency," Abbott told reporters in Canberra.
3.
Hungary, a key point on the migrant route, is expecting an additional 40,000 migrants by the end of next week.
4.
A Hungarian journalist was fired late on Tuesday after videos of her kicking and tripping up migrants, including a man carrying a child, spread like wildfire. N1Tv, also known as Nemzeti TV released a statement on their Facebook page on Tuesday saying one of their colleagues behaved unacceptably and their relationship was terminated.
5.
In Australia, hundreds gathered on the banks of the Torrens River to mark the death of Aylan Kurdi, the three-year-old Syrian refugee whose body washed ashore on a Turkish beach. Illuminated by candlelight, the mood on Monday was grave as those present observed a minute of silence in between speeches on the need to change Australia's hardline refugee policy.
6.
The United Nations refugee agency is seeking an extra $30.5 million through the end of this year in an emergency appeal for financial help for Europe's refugee crisis. Tuesday's appeal by UNHCR comes as the agency projects that some 400,000 new arrivals seeking protection will have come to Europe via the Mediterranean this year -- compared to 219,000 last year -- and possible 450,000 next year.
Rediff recommends: