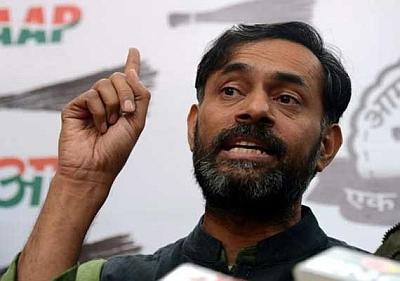 Swaraj India chief Yogendra Yadav on Tuesday told a bank that he "believed" in the assurance made by Prime Minister Narendra Modi and the Reserve Bank of India that demonetised currency could be deposited till December 30, when he deposited his old notes.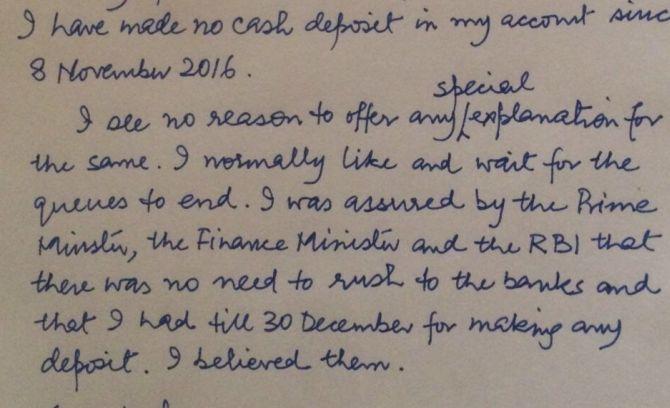 IMAGE: Yogendra Yadav's message on Twitter and Facebook reacting to the deposit of the old notes in banks. Photograph: @_YogendraYadav/Twitter
Yadav said he had not deposited old currency notes because he was waiting for the rush to subside as the deadline for the same was December 30.
After the circular was issued on Monday, his wife Madhulika Banerjee went to the UCO bank to deposit old currency notes.
"I have made no cash deposit in my account since November 8. I see no reason to offer any special explanation for the same [for making the deposit now]. I normally like and wait for the queues to end.
"I was assured by the prime minister, the finance minister and the RBI that there was no need to rush to the banks and that I had till December 30 for making any deposit.
I believed them," Yadav said in his explanation to the bank.
The Swaraj India president also posted this message on Twitter and Facebook which went viral.
His post on Twitter garnered over 5,000 retweets.
The government had on Monday said individuals can deposit over Rs 5,000 in old currency bills only once until December 30 and that too after explaining why it has not been done so far.
After banning Rs 500 and Rs 1,000 notes on November 8, the government had initially allowed people to deposit the scrapped currency notes in bank accounts till December 30 and there was no limit to the amount that could be deposited.
Yadav also lambasted the government and the RBI for regularly changing rules.
"On November 12, the finance minister says that there is no need to rush as the deadline is December 30. On December 20, the RBI asks why did you take so much of time to deposit old notes. You need an explanation?
"Currency functions on trust. Such actions will only lead to erosion of trust in institutions," he said.