Why did Kim Jong-un order his brother's murder?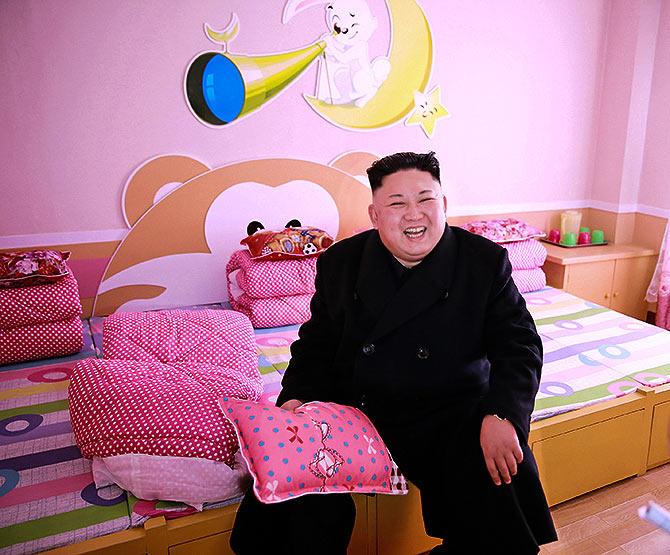 IMAGE: North Korea's leader Kim Jong-un at the Pyongyang Orphans Primary School. Photograph: Korean Central News Agency/Reuters
Tyrants don't rest until they get rid of their enemies -- real or imagined.
Constantly insecure, they consolidate their positions by ruthless annihilation.
Soviet dictator Josef Stalin set the macabre agenda with personal and mass murderous purges, which the tyrants of our time -- Saddam Hussein, Muammar Gaddafi, the Assads -- brutally photocopied.
Spy satellites, the Internet and 24x7 surveillance have made the tyrant's job more difficult, especially if one's foes are located in another country.
After eliminating all challengers to his throne -- an uncle was stripped of his post in public and then murdered with his family -- North Korea's dictator has nonchalantly set his sights abroad.
A tyrant's killers prefer to execute their victims in private away from the glare of attention -- in the silence of a hotel room, in a dark alley -- but Kim Jong-nam was killed in the very public arena of an airport.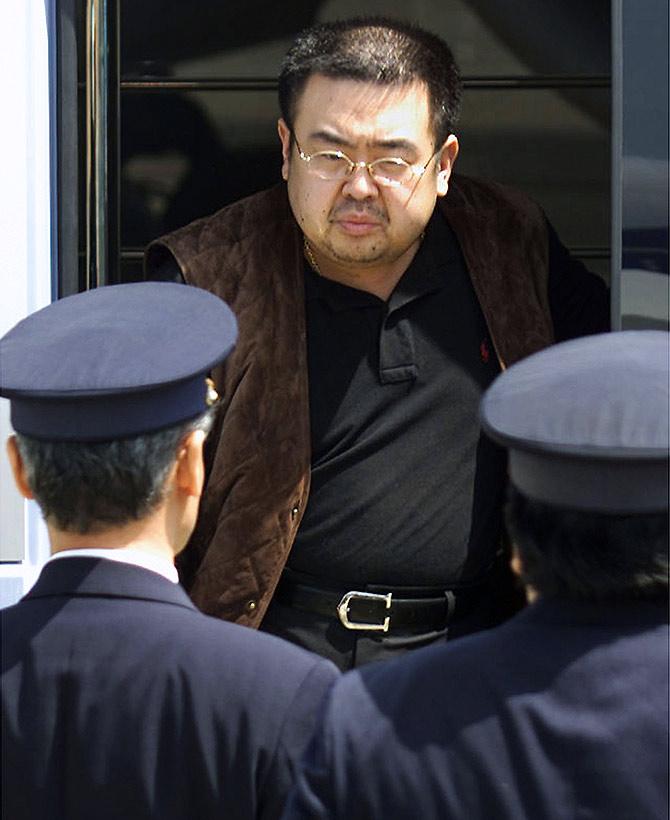 IMAGE: Kim Jong-nam, then North Korea's heir apparent, about to be deported from Tokyo's Narita international airport, May 4, 2001.
Kim Jong-nam, then North Korean leader Kim Jong-il's eldest son, had entered Japan with a forged Dominican passport, May 1, 2001, and was deported to China three days later.
As the eldest son, Kim Jong-nam was once tipped to succeed his father Kim Jong-il as North Korea's ruler.
Then in 2001, he took an ill-advised journey to Japan to visit Disneyland. The Japanese police arrested Kim Jong-nam for carrying a forged Dominican passport and deported.
Livid at the humiliation he had caused his family and the Korean people -- who have never forgotten the Japanese brutality on the Korean peninsula before and during World War II -- Kim Jong-il struck off his eldest son as heir.
Kim Jong-un, his youngest son, stepped in to take his half-brother's place and after their father died in 2011, set savage standards for ruthlessness as North Korea's ruler.
The order to get rid of his oldest brother was apparently issued soon after Kim Jong-un grabbed power in Pyongyang.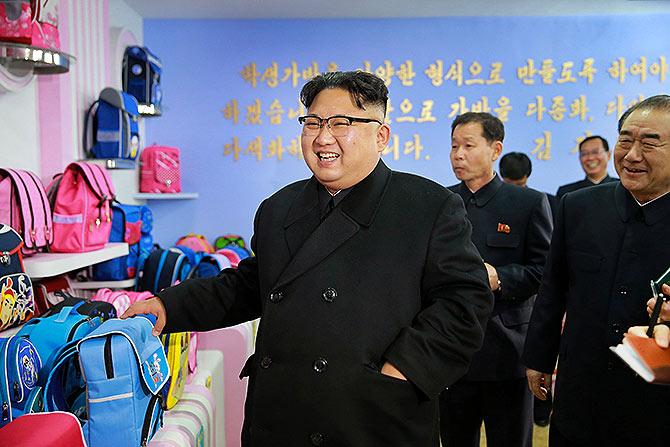 IMAGE: Kim Jong-un visits a newly built Pyongyang bag factory. Photograph: Korean Central News Agency/Reuters
It's a mystery how Kim Jong-nam eluded his brother's killers for so long.
He is known to have lived in many places, Macau being the most notable.
He was returning home to Macau from Kuala Lumpur on Monday, February 13, when two women waylaid him at Kuala Lumpur international airport.
While one woman grabbed him, the other put a cloth over Kim Jong-nam's face for about 10 seconds.
Then, the women were gone, hurrying through the scrum of passengers rushing to catch flights, before hailing a cab.
Unable to see, gasping for breath, Kim Jong-nam begged for help.
He didn't have a chance.
The man who would have been king died in an ambulance on his way to hospital.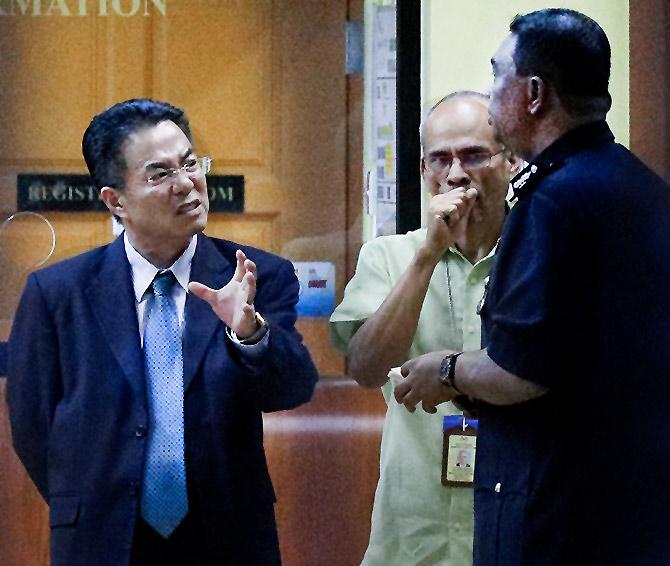 IMAGE: A North Korean official speaks with Malaysian police at the morgue at the Kuala Lumpur General Hospital where Kim Jong-nam's body was held for an autopsy, February 15, 2017. Photograph: Edgar Su/Reuters
Hours later, the Malaysian authorities discovered the deceased's identity. Kim Jong-nam has been traveling with a false passport.
North Korean embassy officials turned up at the hospital soon enough, demanding that an autopsy not be conducted on the body.
The Malaysians refused. The cause of death: A poison more lethal than cyanide.
One of the assassins was arrested as she arrived at Kuala Lumpur airport to board a flight two days later. She claimed innocence; she said a woman had asked her to help play a prank on an overweight passenger.
The Malaysian police have since arrested another woman and are on the lookout for their minders, North Korean spies who supervised the hit on their ruler's brother.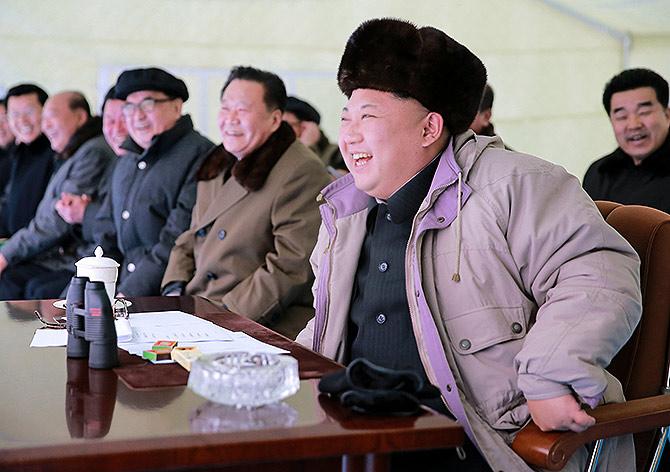 IMAGE: Kim Jong-un watches the Masikryong ski competition. Photograph: Korean Central News Agency/Reuters
The timing of the execution puzzles Pyongyang watchers. Why now?
In 2012, Kim Jong-nam begged his brother -- who, get this, he had never ever met! -- for mercy.
In a letter he wrote to the North Korean dictator, he said he had nowhere to hide, and suicide was the only option left for him and his family, he was not a threat to his brother, so would Kim Jong-un please spare his and his family's lives?
Did Kim Jong-un promise his brother amnesty, that he would not be killed?
Did he lull him into a false safety?
Is that why Kim Jong-nam had stopped traveling with bodyguards?
His friends in Macau say he had grown confident enough about his security to visit the Chinese-governed territory's slot machines and saunas without protection.
But they also told the South China Morning Post that Kim Jong-nam felt he was living on borrowed time.
They had, in fact, been expecting him for dinner on Tuesday, February 14, but discovered that he had been killed the previous afternoon.
With Kim Jong-nam's death, gone is the one man who North Korea's top politicians and army officers could have rallied round, revulsed as they are by Kim Jong-un's capriciously murderous regime.
Speaking to the South China Morning Post, Van Jackson, a former advisor to the Pentagon who now teaches at the Daniel K Inouye Asia-Pacific Centre for Security Studies in Honolulu, said, 'Did Kim Jong-un order the assassination? Yes, almost certainly.'
'He lives a nightmare version of Machiavellian court politics every day, and bloodline is still the strongest claim to legitimate rule in North Korea: Eliminating potential centres of power is cold, but shrewd,' Jackson added.
What will the baby-faced killer, who recently celebrated his fifth anniversary in power, do next?
Launch a missile attack on Japan and escalate tensions in North Asia beyond control?