Bharatiya Janata Party leader Vasundhara Raje countered Rajasthan Chief Minister Ashok Gehlot's claim that she and two other Bharatiya Janata Party leaders had helped save his government in 2020 during the revolt of Sachin Pilot.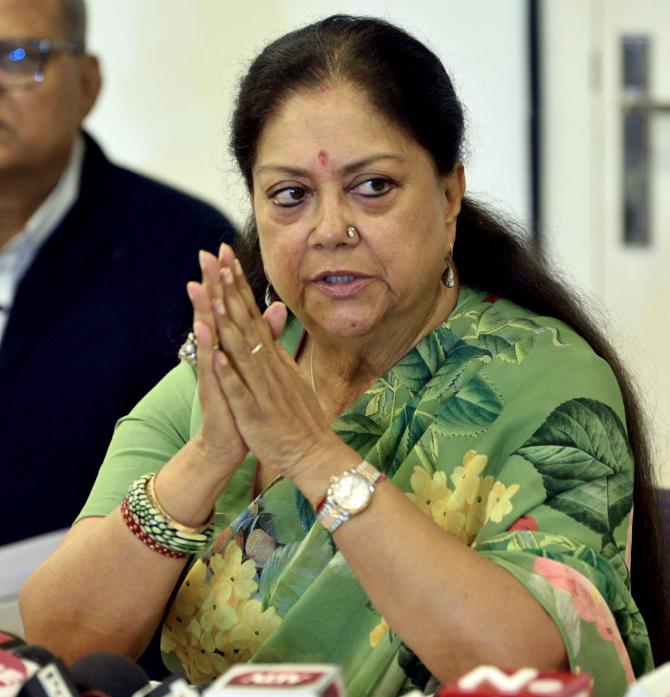 Raje, a former chief minister of Rajasthan, said that "Gehlot's 'praises' is a big conspiracy" against her and the Congress leader was speaking lies due to rebellion in his party.
Addressing a programme in Dholpur, Gehlot said he as the state party chief, did not support the toppling of the BJP government led by Bhairon Singh Shekhawat as it was unfair, in the same manner, Raje and Meghwal said that there is no tradition in Rajasthan to topple an elected government.
Meghwal is a former speaker of the state assembly and is currently an MLA.
"If I wanted, Bhairon Singh ji's government could have been toppled. I said this was unethical work. The man who is ill, he is getting treatment in America, his condition was very critical and leaders of his party were conspiring to topple his government behind him," Gehlot said.
He continued, "Kailash Meghwal and Vasundhara Raje also said the same thing. They said that we have never had a tradition to bring down elected governments on money power... what wrong did he do?"
Terming Gehlot's "praises" for her as a big conspiracy, Raje in a statement on Sunday night said he "has made such outrageous and untrue allegations because of the rebellion happening in his own party and diminishing mass base".
The BJP leader said that no one can insult her as much as Gehlot did in his life. To avoid a historic defeat in the 2023 assembly elections, he is creating such fabricated stories, which is unfortunate and not going to be successful, Raje said.
Gehlot and Raje have often been accused by their detractors in their own parties of "going soft" on each other, especially when it came to allegations of corruption.
The two leaders have denied any such understanding. A few days ago, Raje had rejected allegations of collusion with Gehlot as lie, saying milk and lemon juice never mix.