India and Nepal will strive to take their bilateral ties to Himalayan heights and resolve all matters, including the boundary issue, in this spirit, Prime Minister Narendra Modi said on Thursday after holding wide-ranging talks with his Nepalese counterpart Pushpakamal Dahal 'Prachanda'.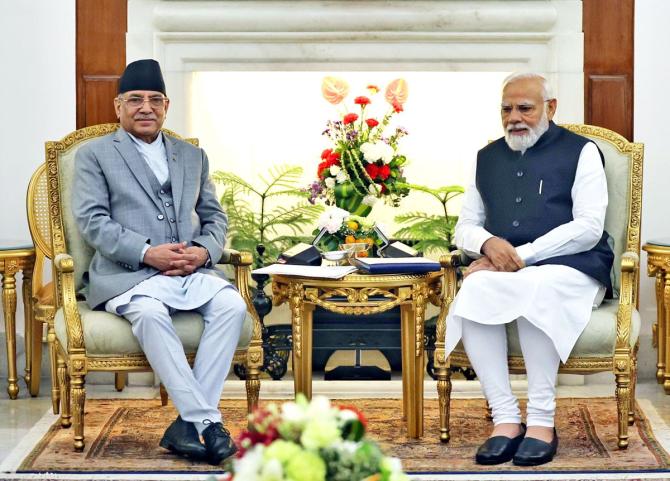 In his media statement after the meeting, Modi said he and Prachanda have taken many important decisions to make the partnership between the two countries a 'super hit' in the future.
Following the talks, Modi and Prachanda jointly launched several infrastructure projects.
The two sides also signed seven agreements to boost cooperation in several areas including trade and energy.
The two leaders virtually inaugurated integrated check posts at Rupaidiha in India and Nepalgunj in Nepal.
They also virtually flagged off a cargo train from Bathnaha in Bihar to Nepal custom yard.
"We will continue to strive to take our relationship to Himalayan heights. And in this spirit, we will resolve all the issues, be it boundary related or any other issue," Modi said in presence of Prachanda.
"To further strengthen cultural and religious ties, PM Prachanda and I decided that projects related to the Ramayana circuit should be expedited," he added.
Nepal is important for India in the context of its overall strategic interests in the region, and the leaders of the two countries have often noted the age-old 'Roti Beti' relationship which refers to cross-border marriages between people of the two countries.
The country shares a border of over 1,850 km with five Indian states -- Sikkim, West Bengal, Bihar, Uttar Pradesh and Uttarakhand.
Land-locked Nepal relies heavily on India for the transportation of goods and services.
Nepal's access to the sea is through India, and it imports a predominant proportion of its requirements from and through India.
The India-Nepal Treaty of Peace and Friendship of 1950 forms the bedrock of the special relations between the two countries.