Rediff.com's Syed Firdaus Ashraf explains the charges against the Bollywood star.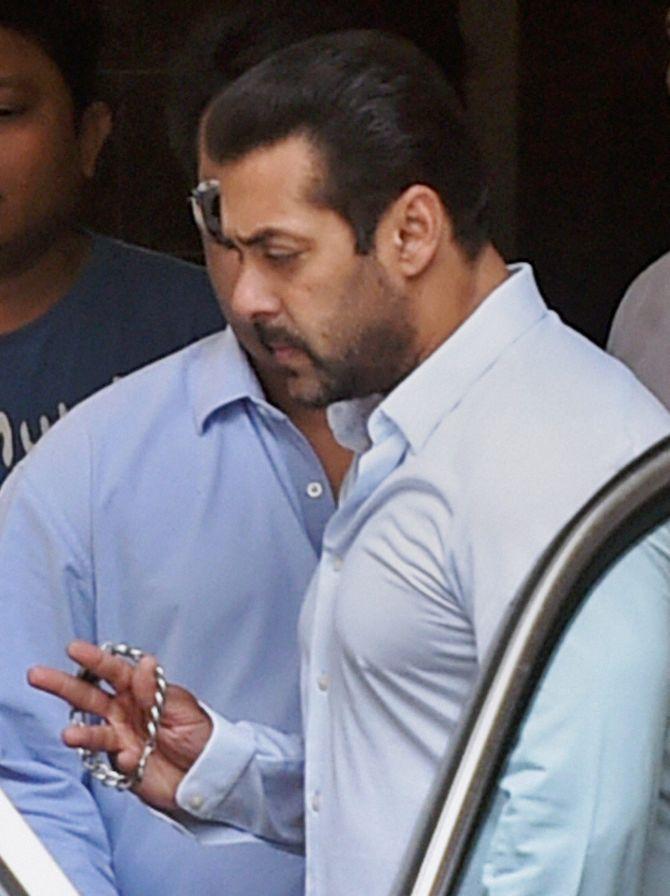 Jodhpur's Chief Judicial Magistrate Dalpat Singh Rajpurohit has acquitted Salman in the Arms Act case linked to the poaching case.
So what was Salman Khan charged with?
Salman was charged under two sections of the Arms Act: Arms Act 3/25 and Arms Act 3/27.
Under the Arms Act 3/25, he was charged for possessing a pistol and rifle without a valid licence. If he was convicted under this Act, Salman would have been sentenced to 3 years in prison.
Under the Arms Act 3/27 Salman was being charged with possessing a pistol and rifle without a valid licence and also 'misusing' it.
If Salman was convicted under this Act then he could have been imprisoned for 7 years.
Salman would have to go to jail immediately. He will not get a chance to appeal for bail immediately.
Salman's lawyers had provided evidence that Salman had a valid gun licence when the case was registered in October 1998.
Four cases were registered against Salman in the then infamous black buck case at different police stations in Jodhpur.
The prosecution alleged that Salman, while shooting for Hum Saath Saath Hain, had gone hunting with his co-stars Saif Ali Khan, Tabu, Neelam and Sonali Bendre and killed black bucks.
Three of the four cases registered against Salman were for killing black bucks. The fourth case was for possession of illegal arms and misusing it under the Arms Act.
Salman has already been acquitted in the other three cases by the higher courts.
The prosecution was banking on the fact that Salman's gun licence expired on September 22, 1998, but his lawyers denied this allegation.