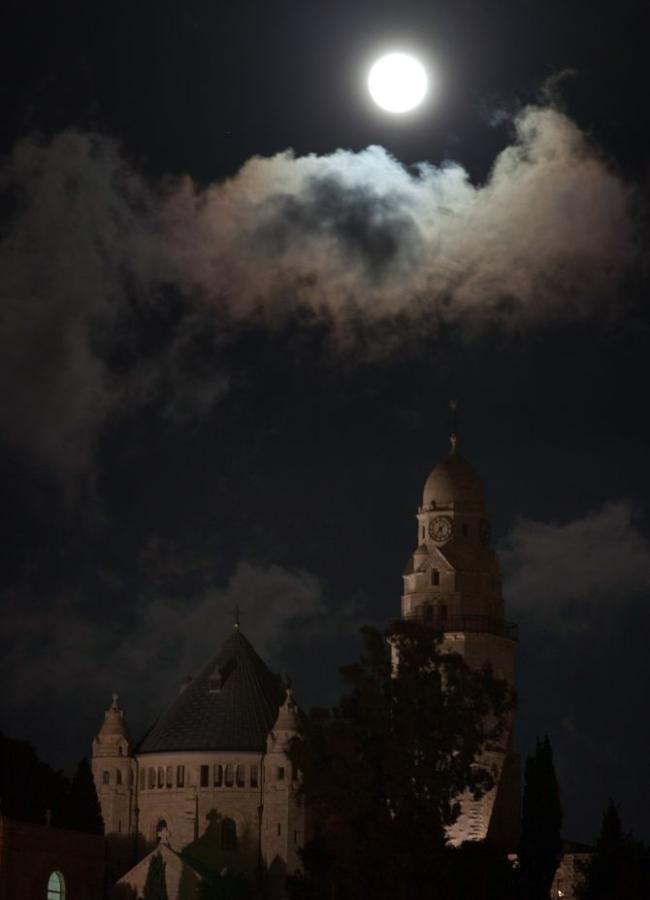 A blue moon or the second full moon of the month, is seen over the Dormition Abbey on Mount Zion, next to Jerusalem's Old City. Photograph: Darren Whiteside/Reuters
Come Friday, and you will have an opportunity to gaze upon a blue moon -- this would be a somewhat rare occurrence that has nothing to with the moon's colour.
The reason it is called a 'blue' moon is because it is one of those rare occasions when a full moon appears twice in a calendar month. Hence the term, once in a blue moon since it refers to this rarity.
So…is it really blue?
Don't be absurd! As explained above, colour has nothing to do with the name. The moon itself would be silver grey.
Though, in in 1883, the Krakatoa volcano in Indonesia exploded. As a result, a huge column of ash rose to the very top of earth's atmosphere. And the moon appeared to be blue.
Csmonitor explains it rather well – 'The moon can appear blue in color if a forest fire or volcanic eruption litters the upper atmosphere with ash or smoke. A volcanic eruption on Mount Pinatubo in Philippines gave the moon a bluish tint from the perspective of many people on earth in 1991.'
A blue moon, or the second full moon of the month, is seen over a church in Amman, Jordan. Photograph: Ali Jarekji/Reuters
When do we get to see the next one?
The next one is expected to appear on January 31, 2018.
Where to look?
So just step outside at around sunset on Friday, July 31, and let the moon surprise you. You never know, it just may, just may appear blue.