After terrorists attacked a university in Kenya's northeastern town of Garissa and killed 147 students in cold blood, Islamist group Al-Shabaab claimed responsibility. This has been the country's deadliest attack since the American embassy bombings in 1998.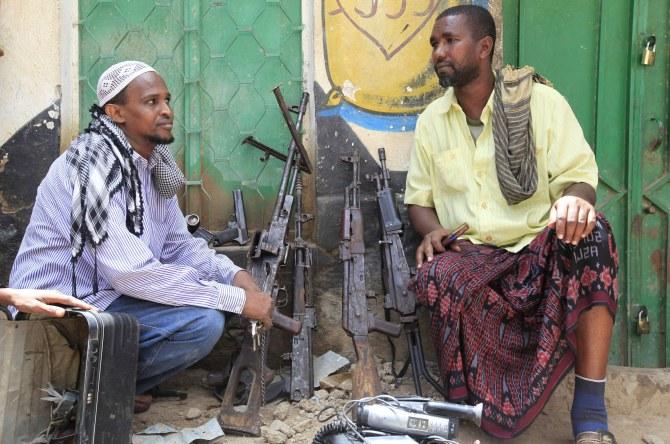 Suspected al-shabaab members and their weapons are paraded during a patrol by Djibouti soldiers serving in the African Union Mission in Somalia (AMISOM) in the south-central town of Beledweyne. Photograph: Feisal Omar/Reuters
Here is what we know about Al-Shabaab:
Al Shabaab means 'the youth' in Arabic
It seeks to create an Islamic state in Somalia and was formed in 2004 as the militant wing of a network of Islamist militant tribes that controlled southern and central Somalia, according to the Council on Foreign Relations.
Ahmed Umar, also known as Abu Ubaidah, is the current leader of Al-Shabab.
In areas it controls, Al-Shabab enforces its own interpretation of sharia, prohibiting various types of entertainment, such as movies and music, the sale of khat (a narcotic plant often chewed), smoking, the shaving of beards, and many other 'un-Islamic' activities.
The US state department designated the group a terrorist organization in the days after the 9/11 attacks.
Al-Shabab remains in control of most of southern and central Somalia. The governments of Eritrea, Iran, Saudi Arabia, Syria, Qatar, and Yemen have been cited as financiers of this group although most officially deny these claims. The group also funds its activities through charities, piracy, kidnapping, and the extortion of local businesses.
It has been reported that Al-Shabab members have kidnapped young boys from schools and have forced them to fight for the group.
According to several reports, the group has a sophisticated public relations arm that includes a Twitter account and video production abilities.
Al-Shabab's ranks have swelled from around 400 into the thousands between 2006 and 2008, and they have ties with Al Qaeda, who they have publicly praised.
In June 2010, Al-Shabab coordinated suicide bombings that killed 74 people who had gathered to watch the World Cup in the Ugandan capital of Kampala.
In September 2013, Al-Shabab militants claimed responsibility for a raid on a Nairobi mall, holding hostages for days and killing dozens.