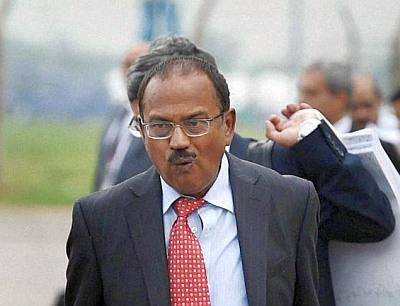 National Security Advisor Ajit Doval on Wednesday called on Afghan President Ashraf Ghani and CEO Abdullah Abdullah in Kabul and reaffirmed India's commitment to assist Afghanistan in building a strong, democratic and prosperous country.
Doval, who is on a visit to Afghanistan to follow up on the discussions that President Ghani and CEO Abdullah had with Prime Minister Narendra Modi earlier this month over telephone, also met his counterpart Hanif Atmar and held talks on a host of bilateral and regional issues.
"NSA conveyed prime minister's felicitations to both Afghan leaders and to the people of Afghanistan for the country's historic democratic political transition in
Afghanistan and the formation of a Government of National Unity at this critical juncture of the country," the Indian Embassy in Kabul said in a statement.
"He (Doval) reiterated India's commitment to assist Afghanistan in building a strong, democratic and prosperous country," it said.
Doval was accompanied by a high-level delegation comprising the Deputy National Security Advisor and senior officials from the Prime Minister's Office and Ministry of External Affairs.
National Security Advisor also paid a courtesy call on former Afghan President Hamid Karzai to personally convey Prime Minister Modi's best wishes and admiration for having led the country with which India has a "special and deep relationship" through its first ever democratic transition.
Ghani, a one-time US-based academic, was sworn in as the new president of Afghanistan last month while Abdullah was named as the "chief executive", a new role similar to a prime minister.
This was done as part of a power-sharing deal that broke a political deadlock between the two political rivals.
Both had claimed to have won the election, plunging Afghanistan into months of crisis that fuelled the insurgency and worsened the country's dire economic outlook.
Early in September, External Affairs Minister Sushma Swaraj had made a day-long visit to Afghanistan and assured that "India is here to stay".