Dana Majhi's walk home is a shrivelling indictment of our humanity and of our priorities, says Mitali Saran.
Illustration: Uttam Ghosh/Rediff.com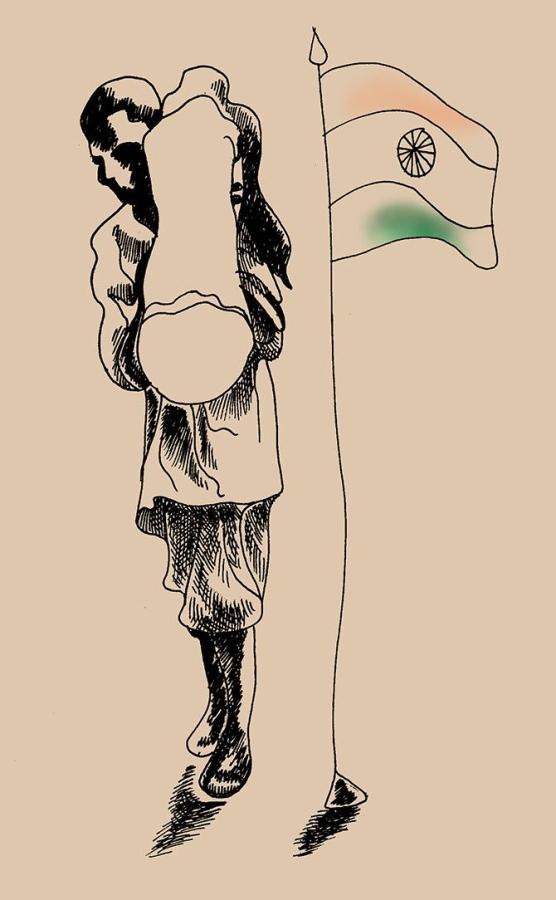 A tribal man in Odisha started walking from a hospital, where his wife had died, towards their village 60-odd km away, carrying her corpse on his shoulders.
This wasn't their tribal custom. It wasn't a protest. He wasn't making a point. He simply had no other way of bringing the body home.
He didn't have the wherewithal to negotiate with the bureaucracy the fee necessary to avail of an ambulance, and the hospital said it couldn't help him, so he just wrapped his wife's body in cloth and started walking home with his teenaged daughter by his side. They had covered 12 km in six hours before someone intervened and summoned an ambulance.
According to various news reports, the hospital denied that it stonewalled Dana Majhi's requests for help. The district collector said that as soon as she heard, she released Rs 2,000 under a government scheme set up to ensure that the poor can cremate their dead, and asked why he didn't wait.
The day after the story broke, the Odisha government finally launched its scheme to make a vehicle available to the poor to transport a body home.
When Majhi set off on his excruciating walk, he wasn't trying to prove anything, but he did: He proved that even in the face of bereavement, the most natural reflex of Indian officialdom towards the poor is apathy, dismissiveness, denial, severity, passing the buck, finger-pointing, and perhaps a spasm of belated official guilt.
It is not attention or service to its people, and it shows an almost pathological inability or unwillingness to empathise.
Faced with the distress of the poor, the State either snaps at the sufferer, or shrugs its shoulders, or both.
This same Indian officialdom has a completely different natural reflex in the face of money and clout: In that case, it excels at embarrassing servility and unnecessary pomp.
Dana Majhi's walk home is a shrivelling indictment of our humanity and of our priorities.
The outrage of the week, according to the Internet's most active outrage-ists, was reserved for the fact that after Defence Minister Manohar Parrikar said that Pakistan is hell, actor and former member of Parliament Ramya said that Pakistan is not hell.
For this, she has been accused of sedition (because how dare she appreciate enemies of India). That tells you everything you need to know about how far from rationality we have allowed ourselves to drift. But leave the lunatics aside for a minute.
What strikes me again and again is how, in the face of physical and emotional atrocity, the poor present their cases.
I cannot count the number of times I've watched a television news report in which someone who has lived through the most egregious horror, reports it to the camera with an affect so flattened by shock and grief that they might as well be reading a script about someone halfway around the world.
We may be a nation that suckles at the melodrama-filled breast of Bollywood, but our most aggrieved people are deadpan, scorched by horror.
And there are so many horrors. One category is politically engineered. I remember a documentary on the Muzaffarnagar riots of 2013 -- screened two years ago and since then effectively banned -- in which villagers described their experience of the Jat-Muslim violence that preceded the general election of May 2014.
Person after person described how their spouse or children or other family members were caught, beaten, stabbed, cut to pieces, doused with petrol and set alight. They pointed to the spots where these things happened, and spoke from a place of such emotional devastation that it could be mistaken for composure.
But another, more pervasive category of horror, is the permanent crisis of dealing with life from a position of abject poverty and disempowerment, and being either swatted away, or entirely ignored, by those whose job it is to help.
This is the horror that isn't tucked away neatly behind a denied certification from the Central Board of Film Certification, but that laps at the door of every home, office, and institution in the country.
This is where sufferers of personal loss such as Dana Majhi are further bloodied by being denied a little dignity, yet they do not have the emotional resources to do anything but simply get on with it.
And the third category of horror is that this is the kind of country we can be: Increasingly obsessed with commanding the world's respect, and still unable to confer any on each other.
When we speak of that, it doesn't matter whether it is melodramatically or with composure. What matters is that we speak of it.