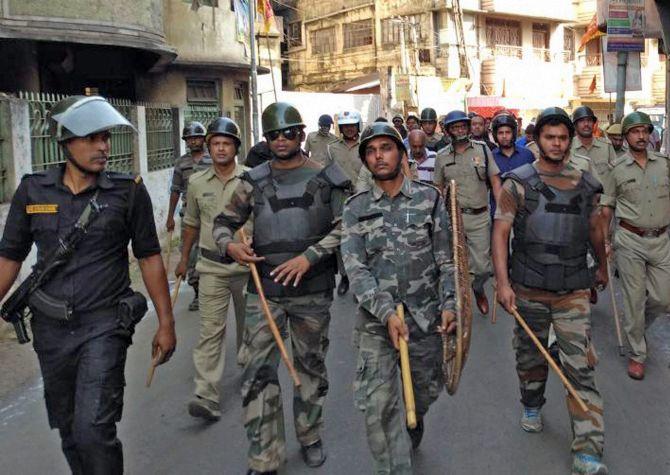 West Bengal Governor K N Tripathi on Saturday met the victims of the riot-hit areas of Asansol and Raniganj and appealed for peace, saying people from all religions should respect each other's festivals.
One person was killed and two police officers suffered serious injuries on Monday when clashes broke out between two groups over a Ram Navami procession in the Raniganj area of Bardhaman West district.
The violence fanned out to Asansol areas, prompting police to suspend Internet services and clamp prohibitory orders under Section 144 of the CrPC in the trouble-torn areas of the district.
The governor, who reached Asansol on Saturday morning, held a meeting with senior police and administration officials and took stock of the situation.
Later, he visited some of the affected areas of Raniganj and Asansol and spoke to the locals. He visited the shops that were gutted during the violence.
"Peace should be paramount. I have come here with the message of peace and brotherhood. Everybody should live in peace and respect each other. There should not be any recurrence of such incidents. Everybody should respect each other's religious festivals," Tripathi told reporters after visiting the areas.
'Violence outcome of Mamata's appeasement politics'
BJP MP Babul Supriyo on Saturday blamed West Bengal Chief Minister Mamata Banerjee for the recent communal tension in Asansol, saying that it was an outcome of her "appeasement politics".
"Processions are taken out in West Bengal for a long time. There was a feeling of competition between communities. This is the outcome of Mamata Banerjee's appeasement politics," the Asansol MP said.
Further attacking Banerjee for her governance, Supriyo said all was well until she became chief minister in 2011.
"I want you to ask her why all festivals of Bengal were celebrated in good gesture till 2011 and what [why] situation became tense after it," he said.
-- ANI
He, however, expressed his inability to visit all the affected areas.
Senior Trinamool Congress leader and state parliamentary affairs minister Partha Chatterjee, however, questioned the governor "visiting only selected areas".
"People will question the impartiality of the governor about his visit to selected areas. We all know that BJP leaders are meeting him," Chatterjee said.
Tripathi met district magistrate, police commissioner of Asansol-Durgapur and Inspector General western range earlier in the day and enquired about the present situation.
Earlier this week, the state government had advised him against visiting Asansol and Raniganj, citing security reasons.
Meanwhile, West Bengal state Congress president Adhir Chowdhury was stopped halfway through when he tried to visit the Asansol-Raniganj area to meet the victims.
Chowdhury, along with other state Congress leaders, staged a sit-in, only to withdraw it later.
"I just wanted to meet the victims but police didn't allow me. They are trying to hide something," Chowdhury said.
A four-member delegation of Bharatiya Janata Party MPs is scheduled to visit the Asansol-Raniganj area on Sunday and submit a report to BJP president Amit Shah.
Union minister Babul Supriyo and state BJP Mahila Morcha president Locket Chatterjee were also stopped from entering the Asansol-Raniganj area by police on Thursday.
The Imam of Noorani Masjid, Imdatullah Rashidi, had said that his son was also killed in the violence, but there was no confirmation from the police on the incident. Rashidi had also appealed for peace in the area.
"Prohibitory orders are still in force as the situation here is tense, no fresh incident of violence was reported from the area in last three days," a senior police officer said, adding that a huge contingent of police and the Rapid Action Force are patrolling the area.
Image: Police carry out flag march at clash hit Ranigunj area at Burdwan district of West Bengal. Photograph: PTI Photo