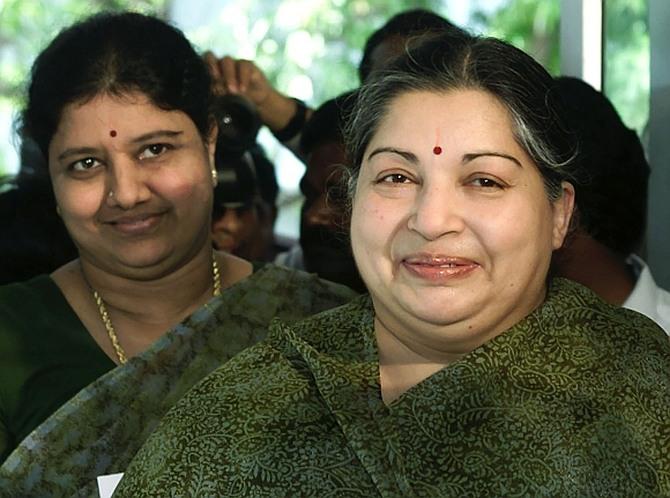 Nine weddings, including that of Tamil Nadu tourism minister's daughter, were called off as Chief Minister J Jayalalithaa was not available to give her 'blessings' to the couples.
According to media reports, Tourism Minister S P Shanmuganathan's daughter Tamizharasi was engaged for a year-and-a-half. However, as 'Amma' was convicted in the disproportionate assets case and went to jail, there was no question of celebrating the wedding.
It was only after the All India Anna Dravida Munnetra Kazhagam chief got bail that the wedding date could be fixed after much consultation. It was fixed for Sunday, December 6. 'Amma' was to 'personally oversee and preside over the wedding'.
Eight other weddings were also planned at the same time with Jayalalithaa's 'blessings'.
However, given the flood crisis and ongoing relief works in Chennai, the chief minister could not have made it to the wedding and 'bless' the newlyweds.
Therefore, all the nine weddings were postponed indefinitely.

Now, the Chief Minister's Office has given a tentative date in January for the weddings to be scheduled so that the CM may be present.
It was latest in the series of cases of flattering the CM by her partymen.
Recently, Jayalalithaa's photographs were stuck by AIADMK workers on relief material that was being supplied to the flood victims. It was alleged by some NGOs that the photos were being 'forcibly' pasted even on the material that was not being supplied by the state government.
After criticism, the party top brass said that action will be taken against partymen responsible for this act.
Before that, posters and hoardings were placed by party workers showing Jayalalithaa as a character from the blockbuster movie Bahubali, who 'single-handedly saved Chennai from drowning'.
The poster evoked sharp reactions on social media with many calling it a slap in the face of the huge citizen efforts underway in Chennai.