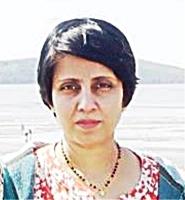 Vicky Nanjappa talks to the family of 46-year-old nurse Jacintha Saldanah, who was found dead in her hospital quarters in central London
It was a prank that went horribly wrong resulting in the death of Jacintha Saldanha, a 46-year-old nurse from Mangalore, in London. Jacintha was working as a nurse at the King Edward VII Hospital in London.
Jacintha answered the hoax call at 5.30 am on Wednesday. Two DJs -- Mel Greig and Michael Christian -- were pretending to be the British Queen and Prince Charles and asked her if they could be put through to Kate.
Jacintha connected them to another nurse who gave details of Kate's condition, who was suffering from acute morning sickness at the London hospital.
The call was broadcast on radio and the details of Kate's health spread across the world. The call was answered by Jacintha on Friday. Later, the police found her dead in her apartment and they suspect it to be a case of suicide.
Her family is in a state of shock after learning about this tragic incident. When contacted, her mother-in-law Carmine said that they are still awaiting more information.
"My son and Jacintha's husband Benedict had called and told us that Jacintha is no more. We do not know anything more," Carmine said.
"We were waiting for her to come down to India and were looking forward to her visit. She usually comes down every two years during Christmas and the entire family would meet," she added.
Carmine said that they do not know what exactly led to this tragedy. "We are told that it is a case of suicide, but all through we were never informed that it was a result of a prank call," she said. Her family remembers her very fondly and said that this is a very unfair incident.
"She was down to earth and always ensured that others were comfortable her family members said," her sisters-in-law, Janet and Irene say.
"We don't know why she took such an extreme step. From what we read, we realised that it was not her fault. She was a disciplinarian by nature and we feel that she did not take this prank too kindly. The hospital had not taken any action against her and neither had anyone blamed her for this. We do not understand why she had to do this," they rued.
"We are waiting for more details as there are several formalities yet to be completed.
Jacintha will be laid to rest at Shirva in Udupi district. There has been outpouring of grief ever since the news of her death became public. Family and well wishers have been visiting her home at Shirva and extending support to the family.
Jacintha is survived by two children -- Junal, 16, Lisa, 14 – and husband Benedict. She had moved to the United Kingdom in 2010.