World Champion Viswanathan Anand failed to capitalise on chances that came his way and played out a draw with tail-ender Levon Aronian of Armenia in the third round of the London Chess Classic on Monday.
Hunting for his first victory in a Classical Chess game since the last World Championship in May earlier this year, Anand got a better position with an extra pawn against Aronian but his opponent fought valiantly to split the points in the end.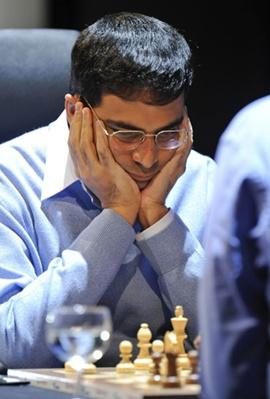 World No 1 Magnus Carlsen of Norway played out a draw with co-leader Vladimir Kramnik of Russia while Michael Adams coasted to his second victory in as many games at the expense of top woman player Judit Polgar of Hungary.
In the other game of the day, debutant Englishman Gawain Jones shared the point with Hikaru Nakamura of United States.
Carlsen and Kramnik stayed ahead of the field with seven points apiece from their three games under the soccer-like scoring system in place here. The two leaders are now followed solely by Adams who has scored six points from two games and has an extra game in hand, having received his bye in the nine-player-eight-games tournament.
Hikaru Nakamura slipped to the fourth spot on four points with one win, one draw and lone loss and Anand and Jones are now in joint fifth spot on two points apiece with a couple of draws. Polgar, Aronian and Luke McShane of England are in joint seventh spot with just one point in their kitty.
After two back-to-back loses, Aronian was under tremendous pressure to score his first point in the tournament. The Armenian is also under threat to lose his number two ranking as Kramnik is on the threshold of overtaking him.
This was probably the reason that Aronian was prompted to go in for the Exchange variation in the Slav defense that has the reputation for being extremely solid, safe and yet white can press for some advantage.
The plan, however, backfired as Anand got the complications rolling in his favour after crashing on the queen side. The world champion won a pawn for only a little compensation and looked in fine fettle till Aronian came up with a sterling effort to save the game.
Exchanging at just the right moment, Aronian capitalised on slightly defected pawn structure of Anand, gave another pawn and reached a rook and pawns endgame which was eventually drawn.
Carlsen lost a pawn against Kramnik who employed the English opening. The Norwegian had to make a valiant effort to stay in the game and with some fine technical manoeuvres, Carlsen forced the game in to a rook and Bishops endgame where the extra pawn was immaterial. The game lasted 62 moves.
Adams won from an irregular Sicilian as white. Getting a passed pawn in the center, the English pushed for advantage very early and was rewarded by a couple of pawns. The rest was easy.
In the last game of the day, Nakamura tried but could not find a flaw in the technical acumen of Jones. After 80 moves the players signed the peace treaty.
Results round 3: Levon Aronian (Arm, 1) drew with V Anand (Ind, 2); Vladimir Kramnik (Rus, 7) drew with Magnus Carlsen (Nor, 7); Gawain Jones (Eng, 2) drew with Hikaru Nakamura (Eng, 4); Michael Adams (Eng, 6) beat Judit Polgar (Hun, 1)
The moves: Aronian–Anand 1. d4 d5 2. c4 c6 3. Nc3 Nf6 4. cxd5 cxd5 5. Bf4 Nc6 6. e3 Bf5 7. Qb3 Na5 8. Qa4+ Bd7 9. Qc2 e6 10. Bd3 Rc8 11. h3 Nc4 12. Nf3 Bb4 13. a3 Bxc3+ 14. bxc3 Qa5 15. O-O O-O 16. Rfb1 Ba4 17. Qe2 Qxc3 18. Bg5 Nd6 19. Bxf6 gxf6 20. Ne1 f5 21. Qf3 Qc7 22. Rc1 Qe7 23. g4 fxg4 24. hxg4 Bb5 25. Bxb5 Nxb5 26. Kg2 Nd6 27. Nd3 Ne4 28. Qf4 Qf6 29. Qxf6 Nxf6 30. Rab1 b6 31. f3 Kg7 32. a4 Nd7 33. Nb4 Nb8 34. Kf2 Kf6 35. e4 dxe4 36. fxe4 Ke7 37. Ke3 Rg8 38. Kf4 Rgd8 39. d5 Rxc1 40. Rxc1 a5 41. Nc6+ Nxc6 42. Rxc6 exd5 43. exd5 Rxd5 44. Rxb6 Rd4+ 45. Kg5 Rxa4 46. Ra6 Ra1 47. Kh6 a4 48. Kxh7 a3 49. g5 a2 50. Kg7 Kd7 51. Kf8 Rg1 game drawn.