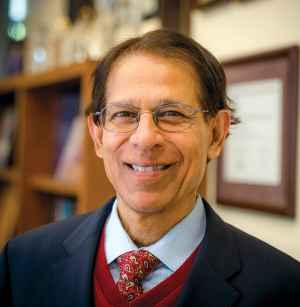 Distinguished Indian American professor of psychiatry and neurosciences Dr Dilip V Jeste has been appointed the first associate dean for Healthy Aging and Senior Care at the University of California. In an exclusive conversation with Aziz Haniffa, Dr Jeste speaks elaborately on his road map ahead, and also the need to change mindset towards ageing and aged people.
Dr Dilip V Jeste, MD, distinguished professor of psychiatry and neurosciences, University of California, San Diego, has been appointed the first associate dean for Healthy Aging and Senior Care at the university.
He will direct the newly established Center on Healthy Aging and Senior Care.
The university said Jeste's appointment 'recognises the broad and growing interest, research and need to improve and promote the long-term health and well-being of older Americans, who comprise an ever-larger percentage of the US population. In 2009, roughly one in eight Americans was 65 years and older. In 2030, that ratio is projected to be one in five... Jeste has long been a leading scientist and advocate for greater understanding of how Americans age -- and how to help them do so well and healthfully.'
An elated Dr Jeste pointed out to India Abroad that he is "the first associate dean of a medical school in the United States appointed specifically for healthy aging and senior care."
He said, "In addition to expanding research, education, and clinical care in this arena, we will also develop a think tank on tomorrow's aging society, which will consider not only health care but also things like technology, housing transportation and even urban planning. We propose to develop position papers, and also do some pilots in the community."
He continued, "We will also have an international focus. Thus, our work would be relevant for seniors not only in the US but also in other countries. As an Indian American, I am, of course, strongly interested in the growing numbers of seniors of Indian origin who are in the US, and also those in India."
He spelt out three top priorities of the new center: "One, research on aging in people with serious physical and mental illnesses such as breast cancer, HIV and AIDS, schizophrenia, PTSD. This would help improve our understanding not only of those diseases but also of the aging process in general. This could potentially lead to development of new treatments for various major disorders and also for facilitating healthy aging in the general population. Two, the use of technology for seniors... There is a tremendous need for user-friendly technology for older adults, including smart phones, social media, and home-based healthcare technology."
Third, he said, would be in-depth, cross-cultural study on "healthy aging... Cultural factors such as attitudes toward aging, mandatory retirement age, inter-generational activities, and use of alternative medical treatments vary considerably across countries, and can have a significant impact on the well-being of seniors."
Jeste recalled, "When I first became involved in this type of research two decades ago, aging was viewed as all doom and gloom. Old age was defined by disease, dementia, disability and death. But I've found that aging has an important positive side too. There is, of course, some physical decline and cognitive impairment with aging, but several parts of psychosocial functioning actually improve. In terms of well-being and emotional regulation, as people get older, even if they are more physically impaired, they tend to be more satisfied with life. It's the paradox of aging, and it's something that I think we must address, explore, investigate and understand."
He said, "We need to stop thinking about how older people are a burden to society and instead focus on how they are a foundation, the personification of resilience, knowledge and wisdom."
Dr David Brenner, vice chancellor for health sciences and dean of the School of Medicine, said the new center will help make UC San Diego a local, national and global leader 'in not just clinical care, research and training, but also in innovation and health policy for seniors. And Dr Jeste is, with his unsurpassed scientific expertise, vision and tireless advocacy in these areas, ideally suited to lead this collaborative effort across the campus.'
Jeste received his medical education in India at the University of Poona and the University of Bombay, followed by psychiatry and neurology residencies at Cornell University and George Washington University, respectively. He did a research fellowship and then was on the staff of the National Institute of Mental Health in Washington, DC.
In 1986 he joined the faculty of UC San Diego. He is the author of 11 books, and editor-in-chief of the American Journal of Geriatric Psychiatry.
In his almost three decades at UC San Diego, he has served in many positions of leadership. He has won numerous awards and honours, including, the A E Bennett Neuropsychiatric Research Award from the Society of Biological Psychiatry, the Jack Weinberg Memorial Award in Geriatric Psychiatry, two Distinguished Lecturer Awards from the APA, listing in The Best Doctors in America and in the Institute of Scientific Information's 'world's most cited authors', a Lifetime Service Award from the American College of International Physicians, Exemplary Psychiatrist Award from the National Alliance on Mental Illness, and Distinguished Investigator Award from the National Alliance for Research in Schizophrenia and Affective Disorders.
Image: Dr Dilip V Jeste