'The days are gone when we only deal with India as the other side of the Pakistan coin or Pakistan as the other side of the India coin.'
Aziz Haniffa/Rediff.com reports from Washington, DC.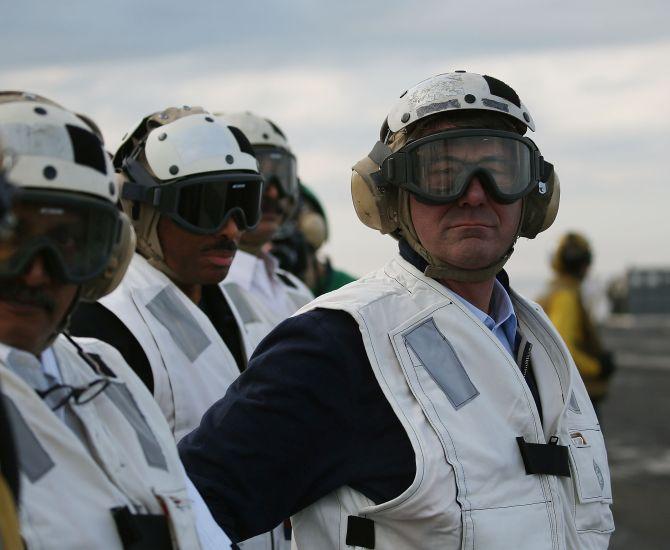 IMAGE: US Defence Secretary Ashton Carter and Defence Minister Manohar Parrikar watch a F-18 Super Hornet launch from the flight deck of the USS Dwight D Eisenhower off the coast of Virginia in the Atlantic Ocean. Photograph: Mark Wilson/Getty
United States Defence Secretary Ash Carter, a day before he leaves for India for meetings with Prime Minister Narendra Modi and Defence Minister Manohar Parikkar in New Delhi -- where a couple of significant defence and military agreements are slated to be signed -- says the challenges with India are 'surmountable,' but that they derive more from history than they do 'from today's logic.'
In the interaction that followed his prepared remarks at the Council on Foreign Relations, on his trip to India and the Philippines and also the rationale for Washington's strategic re-balance toward the Asia-Pacific, Carter, asked what he meant in noting that the US could have difficult negotiations with India on co-production and co-development of military capabilities such as fighter planes, and what it is that India wants that the US is not going to provide them, said, "It is difficult in the sense that it's business."
"Really, you got to understand that the challenges here are surmountable," he argued, "but they derive more from history more than they derive from today's logic."
"The history goes like this -- the United States and India for 50 years, since after India's independence, essentially lived apart."
"India's policy was one of non-alignment in the Cold War -- they couldn't do with us the kinds of things we are doing together today," Carter explained and recalled, "To the extent that they had a military technology relationship with another country -- (that) was mostly the Soviet Union."
"So their entire military industrial system and ours grew up very differently and remained quite different. So, you are talking about taking two things that are really different and trying to match them up and make them work together," Carter added.
"And a lot of the difficulties in just making the US-India defence relationship go forward is simply of that nature. But there is no difficulty in principle, either with the idea in our minds of India as an enduring partner, or in their minds, their willingness to work with us, although in a way that retains their independence, which is important," he said, adding, "Of course, we don't have any problem with that."
"When it gets down to issues of co-production and co-development, then you get into situations where it's not only technology," he reiterated, "but there are American companies and we don't do the negotiations for these companies."
"They do them themselves," Carter said, "but you know my job is to make sure that the 50 years of history is overcome in the bureaucratic and administrative reflex sense and that the tremendously bright opportunity in this huge place -- a billion people -- and the United States in the decades to come."
He said he had absolutely "no question about where the United States-India relationship is going, and we can control and influence the pace, and I want to do that."
To another question, as to what this major and almost alliance partner kind of relationship with India does to US relations with Pakistan, Carter completely dismissed the existence of any zero-sum game vis-a-vis the US policy toward South Asia, implying it has been laid to rest in the dust-heap of the erstwhile Cold War era, and declared, "We have much more to do with India today, than has to do with Pakistan."
The defense secretary took a hefty dig at some quarters both in New Delhi and Islamabad, who still clung on to this mindset and consequently this paranoia still seemed to linger when it came to any of America's foreign policy formulations toward South Asia.
Islamabad, Carter said, "is also an important security partner on a whole lot of issues of which terrorism looms largest -- and we work with the Pakistanis all the time on that."
But "We are long past the time where in US policy-making," he argued, "where we look at the India-Pakistan dyad as the whole story for either one of us -- we have much more to do with India today than has to do with Pakistan."
"There is important business with respect to Pakistan, but we have much more -- the whole global agenda with India. It's an agenda that covers all kinds of issues."
"With respect to Pakistan, once again, totally different," Carter said. "We have a big set of issues having to do with the border with Afghanistan, where we can continue to operate, with terrorism, both on the territory of Pakistan and also, obviously cross-border into Afghanistan, including US service members there."
&"I am sure I'll be asked about it in India," he added, "but I think the first thing that one needs to say today from an American policy point of view -- these are both respected partners and friends they find themselves in very different situations."
"The days are gone when we only deal with India as the other side of the Pakistan coin or Pakistan as the other side of the India coin," Carter reiterated.
"I know there are those in India and Pakistan, who are still glued to that dyad way of thinking," he said. "But the United States put that behind us sometime ago."