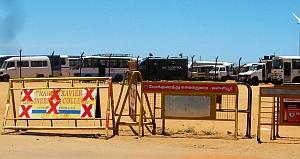 Fuel is being loaded in the Koodankulam Nuclear Power Plant. Outside, the agitation continues, though to most observers it seems futile -- the fishermen continue to fast, stand in knee deep water one day and neck deep water the next day.  A Ganesh Nadar reports
S P Udaykumar, the leader of this movement is hiding from the police and he has been asked to be present in the court on the September 18, and will be arrested if he appears, since there are innumerable cases against him.
Udaykumar stays at the Idinthakarai church with Father Jaikumar. Outside the church there are people fasting through the day. People encouraging them on a public announcement system can be seen. 
It's from here that they go into the sea for two hours every day to form a human chain. One of the agitators, who had collapsed in the sea died in the hospital on Sunday. Koodankulam has claimed its second victim. 
Jaikumar said that on the September 10, they had gone towards the nuclear plant, but the cops had asked them to go back. They had refused. The next day again, the agitators went towards the Plant. They were again stopped by the cops.
Some of the cops started taking up aggressive positions. The agitators stopped and sat down. The district collector and the superintendent of police came and spoke to them. In the meanwhile cops had started encircling the crowd. 
A cop pushed a fisherwoman, who fell down. Mayhem broke. "We had nothing except sand and we threw that," said Jaikumar. The cops first resorted to lathi charge, then tear gas and finally fired thrice in the air. 
The fishermen retreated. Jaikumar did not have any idea why a fisherman was shot dead on the same day in Manapadu, which is 45 kilometres from Idinthakarai. He tells us about the second victim.
"Sahayam was a 38-year-old fisherman. He was standing with us in the water when a Coast Guard air craft came very close to us and he fell down in fright. He was admitted to a hospital in Nagercoil, where he died on Sunday". 
The protestors have been fasting the whole day. "Protests are also taking place in Pondicherry, Kanyakumari and Periyathalai," he said. 
They said they would continue with their fasting and sea protests until the chief minister calls them for talks. The talks will be about the thousands of cases registered against thousands of fishermen.
Jaikumar hinted that Udaykumar was with his lawyer Pushparayan, but said that he didn't know about their whereabouts.
Photograph: The number of police barricades outside the nuclear plant is frightening
Picture credit: A Ganesh Nadar/Rediff.com