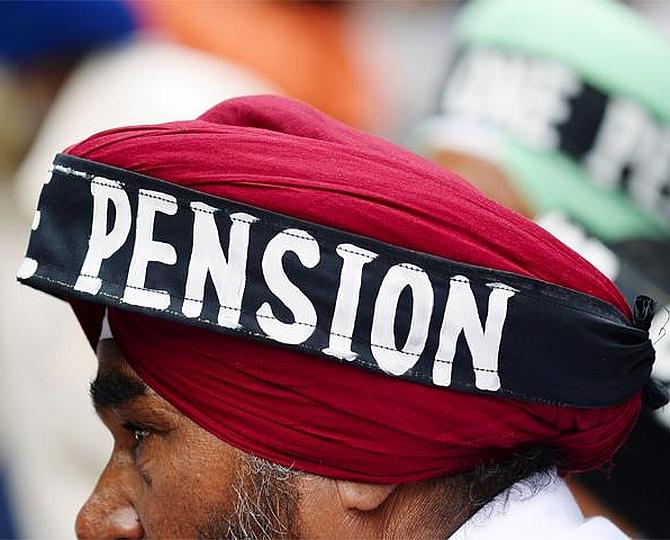 Hundreds of army veterans held a 'Sainik Ekta' rally to press for "honest and truthful justice" as they rejected the One Rank One Pension scheme announced by the government even as some ex-servicemen groups dissociated themselves from the demonstration.
The rally, which began at 10 am at Jantar Mantar in New Delhi, was attended by ex-servicemen from different parts of the country.
Various ex-servicemen groups had come under the common banner of United Front of Ex-Servicemen Movement to hold protests across the country for nearly three months demanding implementation of OROP.
However, cracks appeared in the front this week as its various factions levelled allegations against each other. While a section of the veterans were against holding the 'Sainkik Ekta' rally, others feel they have been let down by the government, which had announced OROP on Saturday last.
On Wednesday, Lt Gen (retd) Balbir Singh, a key member of the front, had announced the exit of his group, Indian Ex-Services League, citing lack of cohesion and the continuance of protests. Other participants in the agitation, including Major General (retd) Satbir Singh, have rejected the government's version of OROP and have now put forward seven points of dissent.
"The government has created avoidable confusion by including VRS (voluntary retirement scheme) in their announcement, as it does not exist in the defence forces. However, those who have taken premature retirement must come under OROP," Satbir said. "We have only one demand from this government, implement the 'real OROP', the announced OROP has seven shortcomings. The government must remove those shortcomings."
He also requested Prime Minister Narendra Modi to discuss the OROP with the war veterans. "The shortcomings of OROP must be removed. "We have already thanked him for announcing the OROP after 42 years, but we don't want a lame OROP," he added
The veterans have also objected to the government's taking of the calendar year 2013 instead of financial year 2013-14 for fixing the base.
"The defence minister had earlier assured that the pensions would be taken from the top of the pay scales, but now the government seems to have gone to an unknown concept," he said.
The ex-servicemen are also opposed to the formation of a one-man judicial commission and demanded that it should be composed of three ex-servicemen, one serving officer and a bureaucrat. Also, the deadline for the commission to come out with a report on the implementation of the OROP should be one month instead of the six proposed by the government.
The protesting veterans have also demanded that the OROP should be independent of the Central Pay Commission and the concept should be in perpetuity. Rejecting the government's proposal of pension revision every five years, Satbir said, "We had agreed to even two years, but now we seek our original demand of revision every year."

Also read