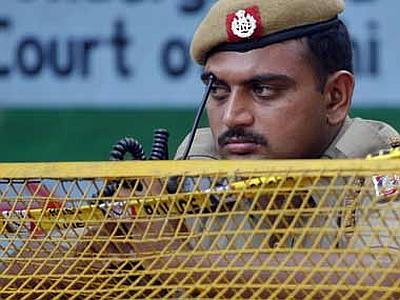 The Congress on Saturday created a major furore over Delhi Police officials visiting Rahul Gandhi's residence and making queries about him even as the police chief rejected allegations of snooping, saying it was a routine exercise of being in touch with dignitaries.
Congress accused the Narendra Modi government of carrying out "political espionage" on Gandhi and demanded a "comprehensive explanation from no less than the Home Minsiter and the Prime Minister" while rejecting the police claim that the episode as merely a security issue.
Congress spokesperson Abhishek Singhvi said Delhi police officials, who visited the party Vice President's residence, had made "unwarranted and weird" enquiries about him.
Asserting that no law permits such a procedure, he said the issue of "snooping and surveillance" on Gandhi would be raised in Parliament.
"Through you, we have raised it nationally. It is wider. We will raise it in all fora," he told reporters.
Gandhi is on a sabbatical since the start of the Budget session of Parliament on February 23. Some police officials went to his residence on March 12 and reportedly asked how he looks like and what is the colour of his eyes etc.
"This kind of political espionage, snooping and surveillance, this kind of intrusion in politcial opponents' life -- this may be Gujarat model. It is not India's model. The track record shows it is a model perfected in Gujarat especially for political opponents, judges, journalists and private persons...
"We are charging the government, condemning it and strongly deprecating this kind of conduct. It is not only specific to Congress and Rahul Gandhi but in general against all political opponents," Singhvi said.
Refusing to see it as a matter only concering police, he said they have better things to do than to "listen to the dictates of their political masters."
Calling it a "serious national issue," Singhvi drew its parallels with incidents of alleged phone-tapping and snooping in Gujarat when Modi was chief minister and said "it is something against which parties irrespective of political colour should stand up."
Confirming that some police personnel visited Gandhi's residence, Delhi Police Commissioner B S Bassi rejected the allegation of snooping and said such visits are a routine practice of being in touch with the dignitaries and there was no malafide in it.
"Rahul Gandhi was not targeted by the police. It was a routine activity which is done to keep records of vulnerable personalities. Police also visited houses of Veerappa Moily, L K Advani, K Chandrasekhar Rao among others. There was no malafide intension behind seeking details about Gandhi," he said.
Bassi said police was never asked either by Prime Minister's Office or home ministry to visit Rahul's residence and asserted that there was no political pressure on police.
The police chief said such surveys are conducted at the offices of all protected persons from time to time for prevention and detection of crime and maintaining of law and order.
"Two cops went to Rahul Gandhi's residence. Our beat officer Rameshwar Dayal went to his house on March 12 and sought details about him. As beat officers are not able to directly meet such persons, they contact their office staff and leave performa pertaining to required details," he said.
According to Bassi, on the same day, Dayal went to the houses of MP Krishan Pal Gujjar, Naresh Agarwal, M Veerappa Moily and Telengana Chief Minister K Chandrasekhar Rao.
Beat officers are instructed to meet the staff of important people living in the area falling under their jurisdiction and keep a personal information about them, he also said.
"Such details are also important in many cases... for instance, if there is any protest outside house of any important leader, cops may face problem in locating the house and identifying their staff without any such information," the police chief said.
BJP hit back at Congress for charging the Modi government with conducting "political espionage" on Gandhi, saying the opposition party has the habit of seeing conspiracies even in "routine" matters and considered itself above the law.
BJP spokesman Sudhanshu Trivedi termed the police verification on Gandhi as a "routine exercise" carried out by Delhi Police for years, saying the same had been done even in the case of the Prime Minister, the Home Minister and BJP chief Amit Shah, veteran leader L K Advani and other senior opposition leaders like M Veerappa Moily, Naresh Agarwal and K Chandrasekhar Rao.
Congress, Trivedi alleged, was devoid of any issues that is why it was making an issue out of such matters to gain political relevance.
He alleged that Congress had resorted to snooping during its own rule when reports of bugging on the then Finance Minister Pranab Mukherjee had surfaced but no satisfactory explanation was given by the government.
Singhvi rejected as "laughable" BJP's claim that it was routine survey by Delhi Police.
Asked about the motive behind the alleged snooping, Singhvi said that he was not here to speculate but quipped "political espionage is not done because you are shaking hands with political adversaries or have dinner with them."