Delhi Deputy Chief Minister Manish Sisodia on Monday said that his government's attempt to clean the roads of Delhi after the municipal corporation went on strike was not a photo opportunity and asserted that garbage was actually being picked.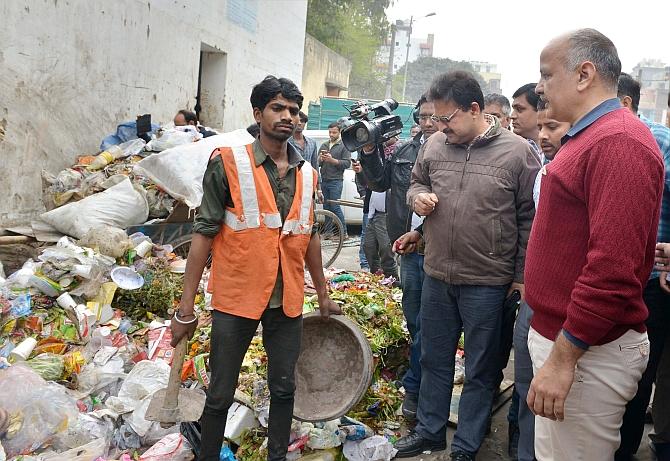 "We are cleaning the garbage, this is not a photo op. We are actually working," he said.
Sisodia reiterated the Aam Aadmi Party's allegations on the MCD of misappropriating the money given to them.
"The Delhi government has given all the money we had to give. Where will we get more money from? MCD is not telling us where all the money went. They had been provided money for salaries and developmental work. They could not give salaries for 12 months. They must answer where all the money went. When we asked them for the answers, they said they would only answer the CAG,' he said.
Sisodia, however, requested the teachers of MCD schools to think about the future of the students and continue with their duties.
The showdown between the AAP government and the BJP-led municipal corporations over funding of salaries escalated further as city-wide protests marked the fifth day of a civic workers' strike, leaving roads strewn with garbage and several hospitals locked.
A leader of the striking sanitation workers' union said the ruling political parties in Delhi -- the BJP and AAP -- will have to pay a heavy price if they continue to ignore the interest of MCD employees.
"All employees of the three municipal corporations are together fighting for our interest. The Delhi government and BJPruled corporations are fighting for their political gain but this could cost them dear. If they continue ignoring our demands, they will pay a heavy price," he said.
"The state government, BJP-run MCD, and the Centre are responsible for this crisis. In their attempt to pass the buck they are playing with the lives of workers. The protest can soon take an unpleasant turn. This is the first time that such a crisis has arisen over the issue of salary in the Capital," said Rajender Mewati, general secretary of the United Front of MCD Employees.
Mewati said it is unconstitutional on the part of the state government to outsource the basic services of the MCD when so many workers are already assigned for the task.
Image: Deputy CM Manish Sisodia took part in a cleanliness drive in his constituency Patparganj. Photograph: PTI Photo